Guitar Get Together 2005
June 26, 2005
We usually hold these parties every other year, since Bob Alman hosts a party during the semi-annual Healdsburg Guitar Festival, but between popular demand and a rare visit by Arlene (kol_isha on RMMGA and the 13th Fret) to California, we decided to put out the call for a guitar get together. As usual we posted on rec.music.makers.guitar.acoustic and the 13th Fret, the Acoustic Guitar Magazine Forum, and the Unofficial Martin Guitar Forum. We also put up notices on some new discussion sites, the Acoustic Player Magazine forum, and the former Taylor discussion forum now called the Acoustic Guitar Forum. We wound up with a really fun mix of old and new friends, a house full of guitar cases, and an afternoon and evening of sweet music.
Dawn and Lance McCollum have been at all but one of the gatherings at our home, in fact one of the things that makes our event special is seeing what new Functional Sculpture treats Lance has in store for us.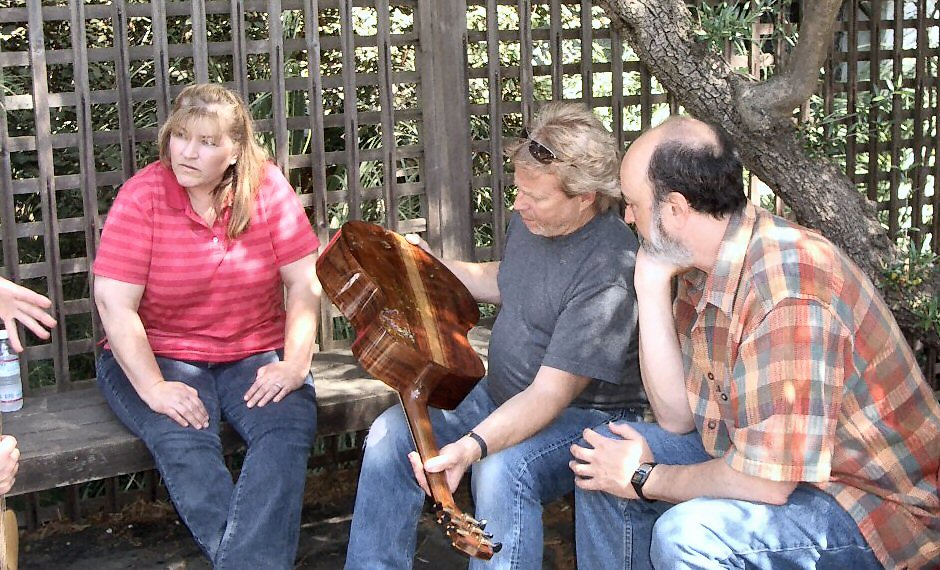 David Siegler joined us for the first time and brought two Laurie Williams guitars, Lance is checking the exotic New Zealand timber used for the back. David also brought a vintage koa lap steel that had that "chicken skin" tone.
Harvey Leach made the trip down from the Sierras with Lance and Dawn. He's talking guitars with Steve Cyr, a Roseville luthier who's transitioning from solid body electrics to acoustics.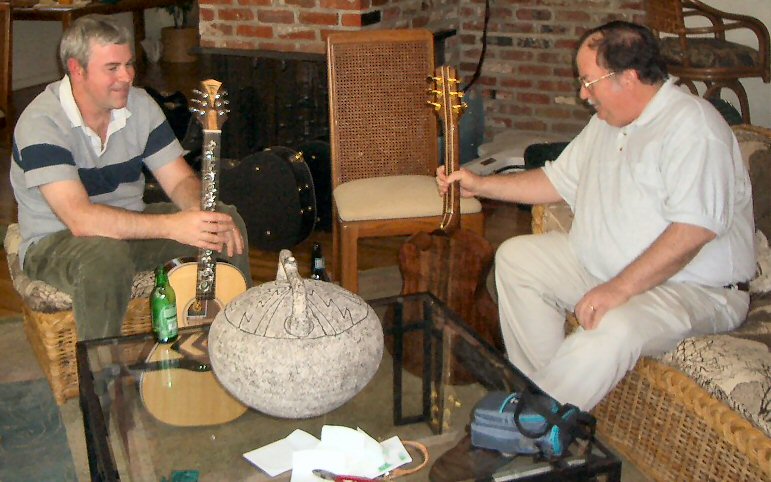 If I remember right, both these beauties feature Harvey's amazing folding neck "Voyage-air" system.
Bruce Sexauer is a solo luthier who's joined the discussions on the 13th Fret and other boards, sharing his knowledge and building philosophies.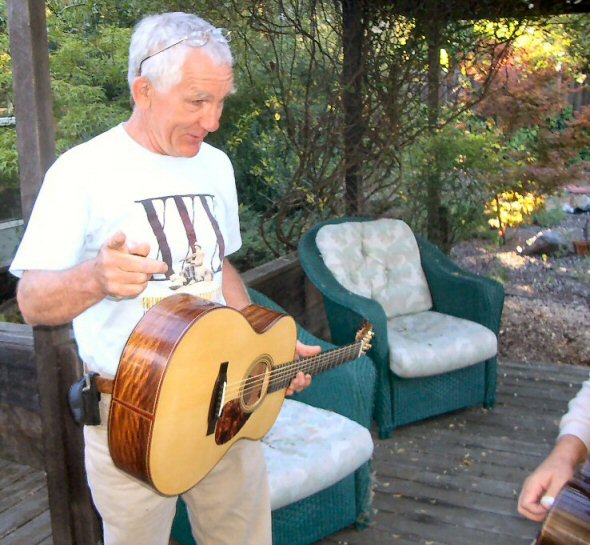 Bruce brought along a lovely group of guitars, but even better he brought his terrific singing and playing talents.
Thanks to Darrie Hilyard we have a pic of John Youngblood with Steve Swan. Steve is a well known dealer in guitars and string basses, he's brought a lot of terrific guitars to a lot of players. He's also been terrifically generous with his time and done a lot to educate me and others in the world of fine guitars.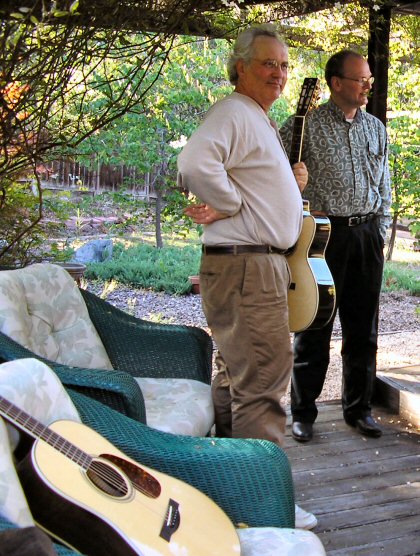 One of Steve's quartet or so of Brozman baritones rests in the foreground, John is holding a slothead 000 cutaway Cruz in dreadnaught depth Brazilian that was part of Steve's stash.
Here's Steve Cyr with his first acoustic, a big bold dreadnothing.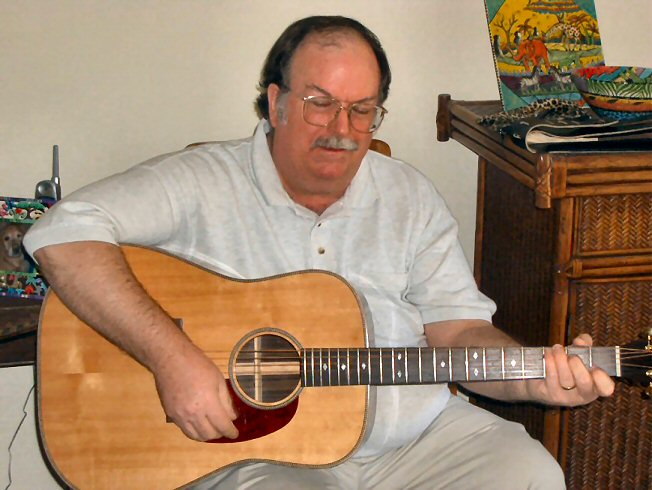 Is this the picture of a proud poppa, or what?
Svea Norton is another pal who adds to all our get togethers. Svea has even had a part in instigating a couple of these events, including the latest one. When she tells me it's time for another picking party I just start baking.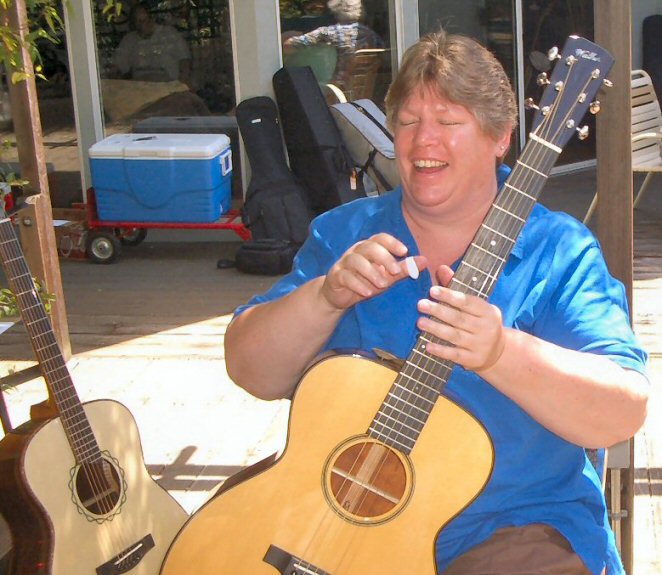 Blues belter, guitar slinger, all day and all night jammer, Svea makes the party.
Picture of another instigator - Brian Kolner conspired with Svea on this one, and Brian said he'd let me fondle his Bozo if we threw a bash.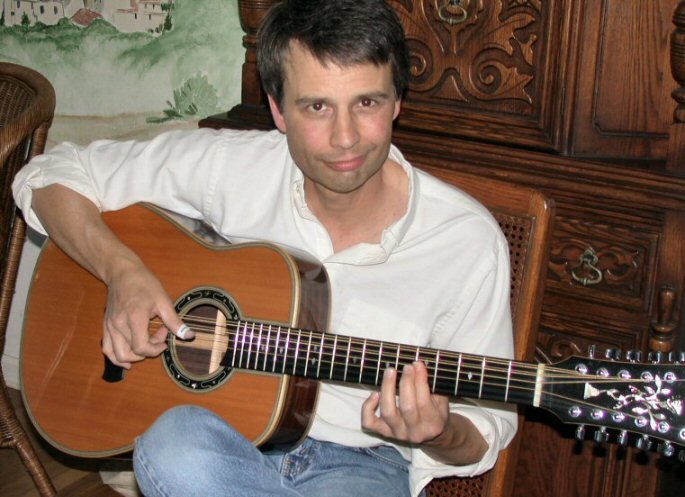 I walked by while Brian was ripping on this twelve string and told him we were going to have to get a zoning variance for the volume he was putting out.
The hard part of throwing one of these gatherings is picking the date. Fortunately our buddy Arlene solved the problem. She was out in our neighborhood on a business trip but had one day when she could break away and join us, so that became our date.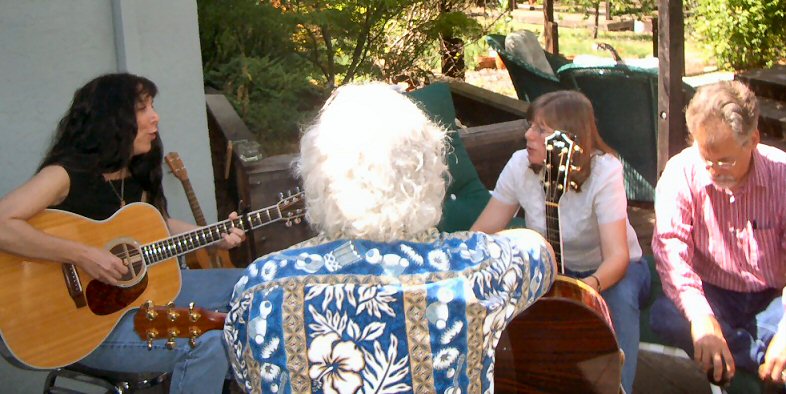 She couldn't bring a guitar, so she had to suffer along with this loaner, Steve Hawkin's Martin M-38. We also have Bill Benzel's back and Lisa and Peter's fronts. This whole crew were joining us for the first time.
Dave Hilyard and I have been corresponding about guitars and music for a year or so, we were sure glad he could make the trip up from Santa Cruz to join us. He brought along the radical Tom Bills guitar that John Youngblood is picking. Note the lack of soundhole, the only vent is a port that just exhales bass in the players face.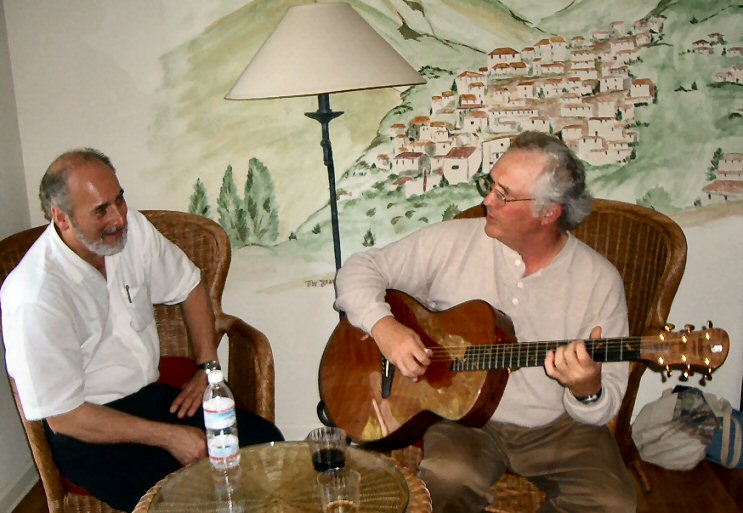 John is a photographer and picker from Healdsburg. He was thumbpicking from the minute he walked in the door until late into the night.
Dave's wife, Darrie, charmed us all and proved you don't have to be a picker to add to the party.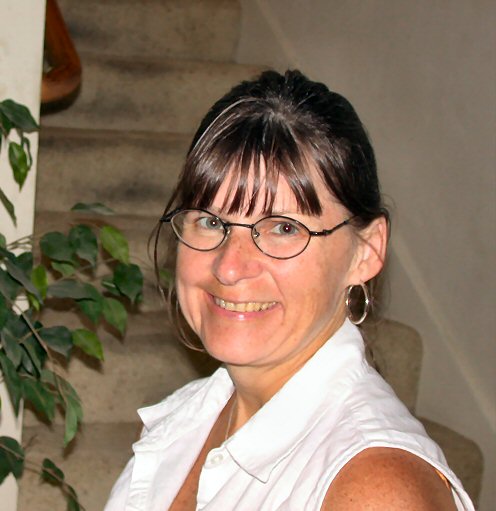 They brought their son, Spencer, a circus arts student who added juggling to the festivities.
Thank goodness Darrie brought her camera. She caught several scenes I missed. Here's Dave and Spencer Hilyard getting ready to jam.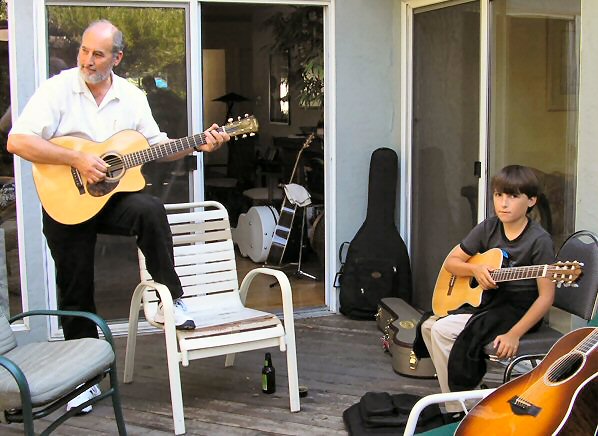 Dave has Bruce Sexauer's personal guitar, I didn't catch Spencer's instrument but it looks like something I need.
One of the special guitars that made it to the party was the 13th Fret OM. Lance is one of the luthiers who contributed to the project.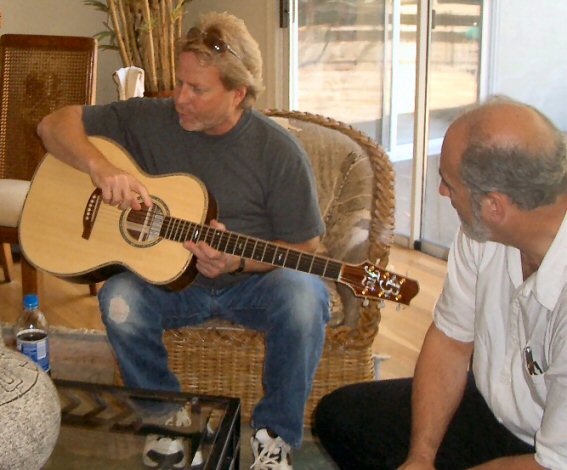 This is definitely a Jeckel&Hyde guitar with two distinct personalities. To the player it's a bit reserved, a little boxy, but to the listener it's amazingly LOUD, full, and rich.
Bill Benzel is a fellow slack key enthusiast who made the long haul from Carlsbad, CA. We first met at Bob Alman's last Healdsburg party.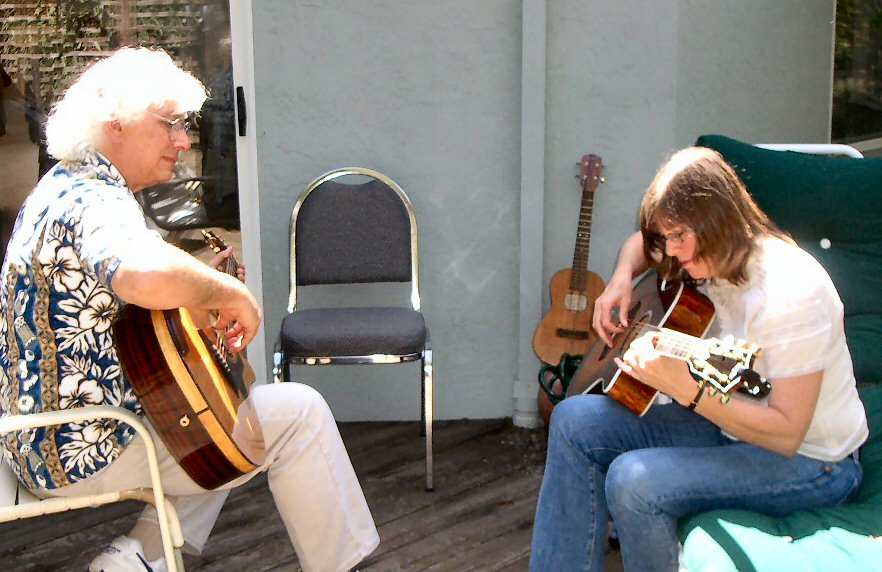 He's picking along with Lisa Short Chupity who came with husband Peter down from the Santa Cruz mountains. We're always happy when we find new players and singers to join the fun.
Bob Alman has been hosting guitar parties longer than we have, in fact he was our inspiration. We're looking forward to his next gathering during this year's Healdsburg Guitar Festival.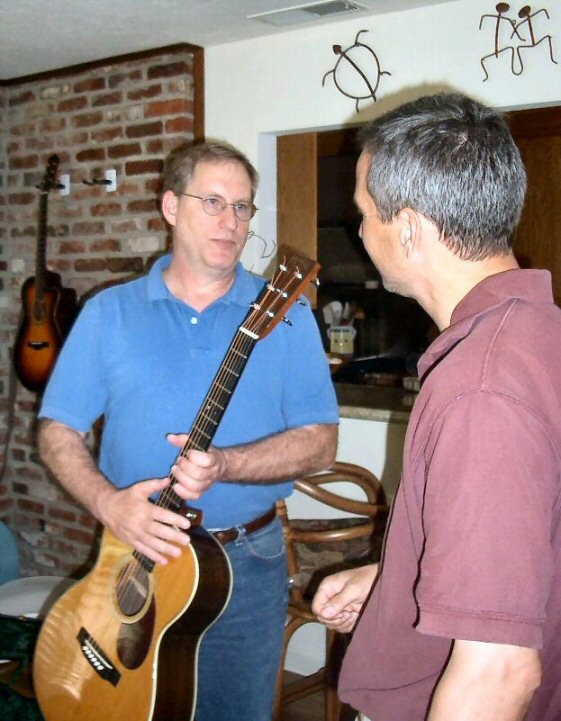 Joel Wummer has been to several of our parties. We were glad he could join us again this year.
Joanne is Lynn's sister. She came to visit for a nice weekend of peace and quiet. Then we told her there were going to be a couple of dozen crazed picker/singer/guitar fondlers hanging around all day.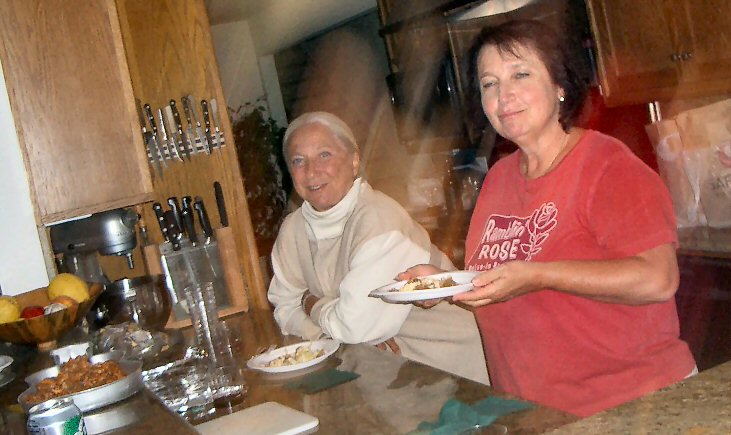 She accepted the news with remarkable grace. Lynnie is showing the proper ecstatic reaction to my Carolina style slow cooked pull pork with vinegar sauce and Low Country cole slaw. Please note the guitar shaped cake pan, pressed into service as a munchie server.
Thanks to Darrie again, we've got a shot of me sneaking around trying to catch embarrassing pictures of people.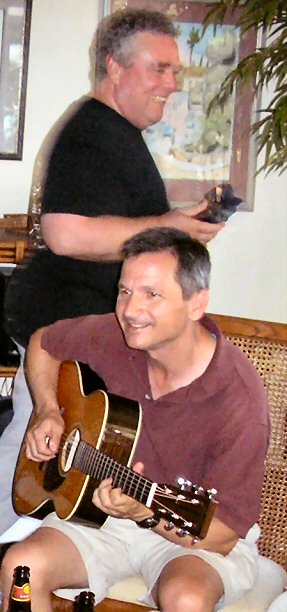 You can tell Joel gets real joy from playing guitar. I think this is Bob Alman's OM-28V.
Marshall Newman is another regular. He has a pretty nifty collection of guitars.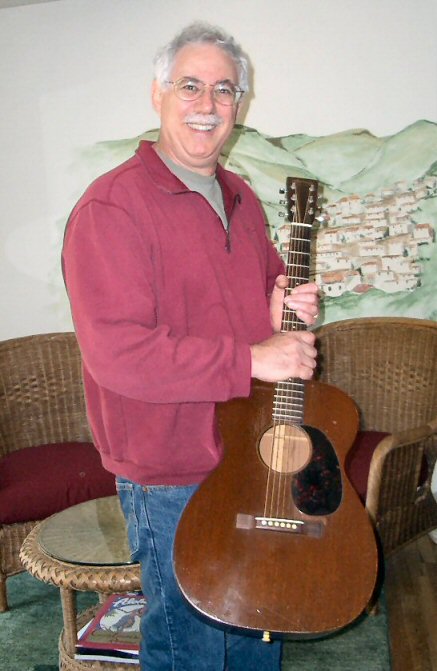 This is his 1941 Martin 00-17 (or 00-15?). This one was purchased by his father at gas station! in the sixties and is one of the sweetest sounding instruments I've ever handled.
I was sure pleasantly surprised when I got an email from Steve Hawkins asking for directions to the party. It's a pretty long haul from Portland to Walnut Creek, so we were honored by his visit. We'd met at the TX gathering in Wimberly last year.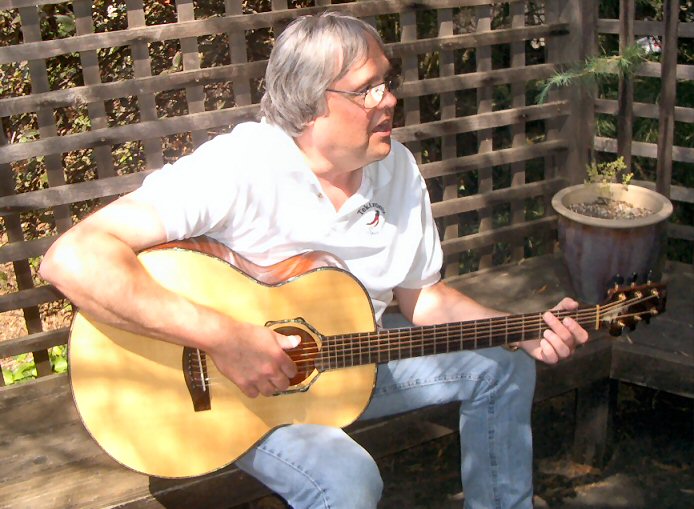 Steve has a terrific repertoire of DADGAD originals that just come rolling out his McCollum. Or is that Lance's latest personal guitar? There were so many of Lance's tone monsters being passed around that it was hard to keep them straight. Late news, Steve says this is Lance's baritone, "Ed." Pleestameecha, Ed.
The sun's going down, time to take a break. Vicki Benzel found one of the few quiet corners and enjoyed the Northern Cal sunset.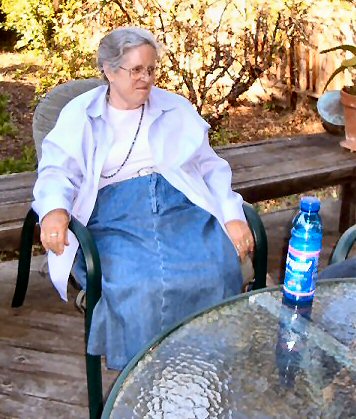 We were lucky enough to have a near perfect day for our get together, with just the right mix of sun and breeze.
Chris Estes is one of the folks I met throught the Acoustic Guitar Forum, he puts on an open mic at a local brewpub and plays and sings modern acoustic pop.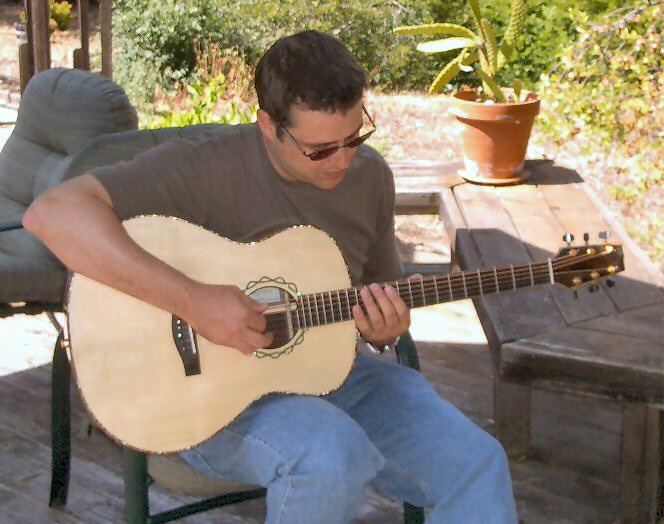 After fondling various McCollums, Sexauers, Santa Cruz, and the other outrageous guitars scattered around, he was complaining that he's going to have to get a second job and go guitar shopping.
Arlene might be having a good time, it's hard to tell.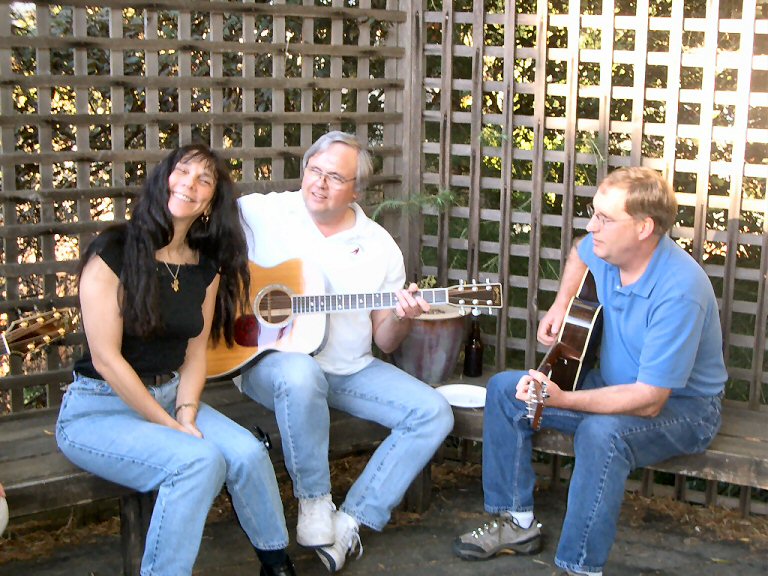 I'd be grinning big too if I had Steve and Bob playing my soundtrack.