Luthiers and fans in Walnut Creek, CA
Saturday November 10, 2001
When Kevin Ko mentioned on the 13th Fret guitar discussion forum that he would be visiting the San Francisco Bay Area, would be bringing one of his guitars, and would like to visit with local players, I volunteered our house in Walnut Creek. He graciously accepted, and I published announcements on the 13th Fret and on RMMGA, and the Acoustic Guitar Mag discussion board.
Kathy Wingert responded to my announcement by saying that she was trying to make a road trip to the SF Bay Area, would be carrying guitars, and might be able to stop by. This was getting good, folks. We offered Kathy our spare bedroom and were pleased when she agreed.
The event turned out to be something special. If you already hang with folks and play acoustic music, you know what I'm talking about, but this is kinda new for me and I was surprised at the sweet explosion of good feelings and enjoyment that filled the afternoon.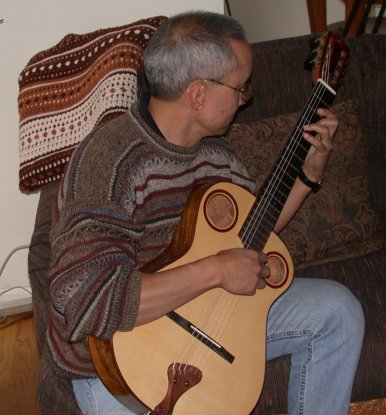 Kevin Ko gave us a reason to get together. If you don't know anything about Kevin do yourself a favor and click on the link above. He's an amateur builder who brings remarkable talents for design and craftsmanship to the task of creating guitars. Most amateurs are happy to follow detailed plans, or build from kits. Kevin creates new categories of guitars, and adorns them with unique visual features. The guitar he's playing is Ko #3, a koa and engelmann spruce "induced archtop" nylon strung guitar. He also brought a Macassar ebony and englemann spruce steel string, Ko #2. Kevin is under the spell of Chet Atkins, and he cast that spell on us several times. The whole room went quiet when he started one of his fingerstyle pieces.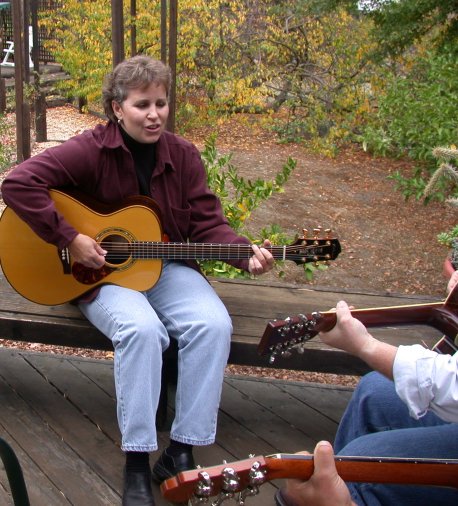 Kathy Wingert added some star power and a lot of music to the occasion. Kathy is a professional luthier who worked for years doing repairs and restorations at World of Strings, in Long Beach. She has built guitars of her own design alongside the repair work, but in May of 2001 went to custom building full-time. Her guitars are beautiful to look at and inspiring to play. In this picture she's playing her personal model E, with the high drama yellow tinted top, Brazilian back and sides. Kathy brought another E and an 00C to share with the appreciative players. Musically she sings beautifully, she flatpicks, she fingerpicks, she plays classical, she sandbags.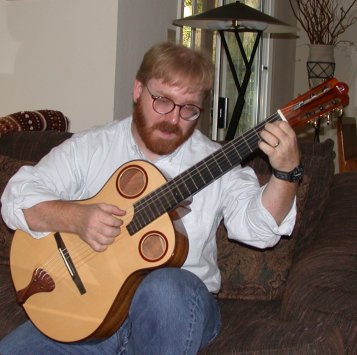 Matt Hayden and Kevin's #3. Matt's transported. The workmanship is exquisite, the design is striking, the sound satisfying.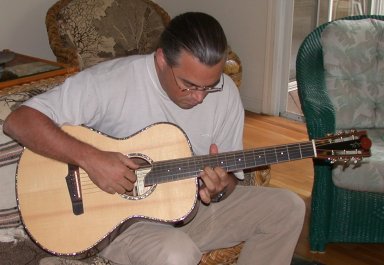 Mike Skinner digging in on Ko #2. This dainty little guitar was quick, with a full sound that carried across the room. You could spend hours going over the details that Kevin conceived and crafted.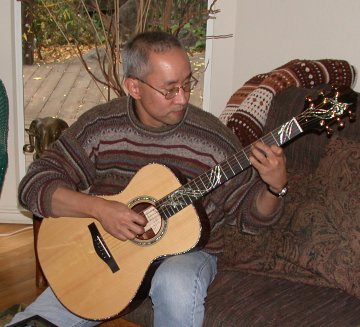 Kevin seemed to enjoy this Wingert E. This guitar has a few cello genes in there somewhere.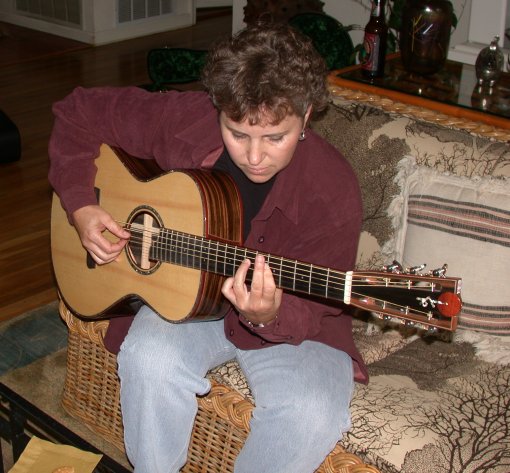 Kathy was as impressed as the rest of us with Kevin's guitars.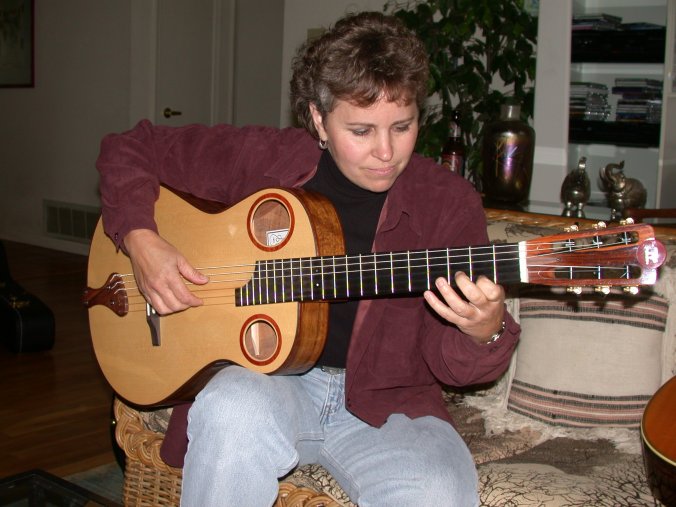 I thought Kathy was a bluegrasser, then I thought she was a folkie, a swing player? Singer-songwriter stuff? Celtic?? Yes to all the above, but she's really a classical player, sandbagging. When Kevin plays #3 it's jazzy, but when Kathy plays it it's a concert classical. She told me she was amazed that Kevin could engineer a tailpiece system for nylon strings that generated sufficient downforce.