Jam in July
July 13, 2002
The Luthiers
Players and Friends
More Players and Friends
Music
This party was conceived by Svea Norton and Fran Guidry, and executed with style and grace and charm by Lynn Guidry. Thanks again, angel.
We posted the announcement on the SF Bay Area Acoustic Guitar Yahoo email group, the 13th Fret , and Taropatch.net and what follows is a hint of what happened. The party eased into being when Kevin Ko arrived on Saturday morning, kicked up when Dave and Monica Skowron pulled into the driveway, and then rushed into high gear at about 1 in the afternoon when Lance and Dawn McCollum were followed shortly by Marshall Newman, Kathy Wingert and Sheri, and more and more. The flood of absolutely ravishing guitars was overwhelming, we were drinking from a fire hose of stunning lutherie. As the day went on singer after fingerpicker after flatpicker cut loose in solos and groups, trios and duos. There were tight jams and loose jams, bluegrass, folk, country, Hawaiian (of course), blues, jazz, Celtic, rock, classical, Hedgesesque sonic landscapes and Chet Atkins style fingerpickin'. We shot pictures, recorded minidiscs, and will present the result, but you should realize that we were WAY too busy having fun to capture every detail.
This chronicle will probably not have enough guitar pictures to satisfy the true gear head, and for that I apologize, because I love looking at pictures of lovely guitars, too, and there were lots of beauties about, but the people make the party, so we caught the most important part of the event. I recommend a tour of the luthier sites to see what they've been up to.
The Luthiers
Which came first, the luthier or the guitar player? That's one is easy, and the luthiers were the key to this party reaching such levels of pure pleasure.
Lance McCollum brought his harp guitar, his baritone, his GA, and most important, MY walnut and Italian spruce GA. Thanks, pal. The new bridge spacing is what I should have asked for in the first place, and it sounds bigger and bolder than ever after a visit to home. The harp guitar attracted a couple of players who actually knew how to make it speak, and it was a moving experience. They were in love with the port in the harp extension that fed them a big blast of tone.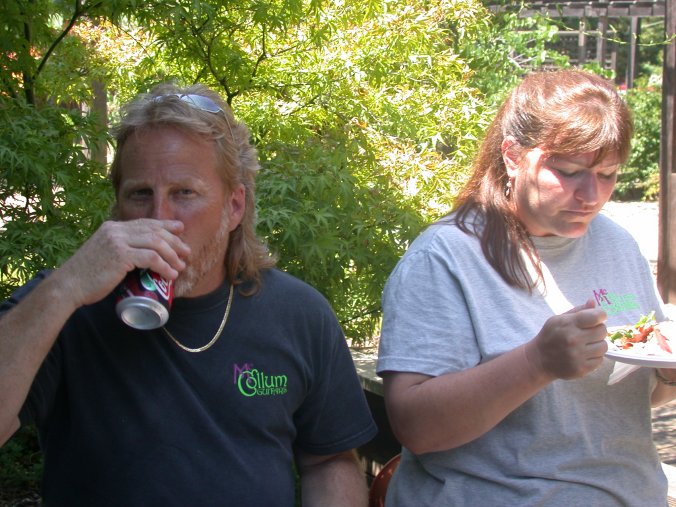 We didn't get a true "luthier in action" picture of Lance, but we did get to include Dawn. It was a pleasure to finally be able to return their hospitality.
Kevin Ko made a quick trip from Eugene, OR to share his #4 guitar, a charming coco and cedar nylon strung guitar with his patent pending cant-tail system.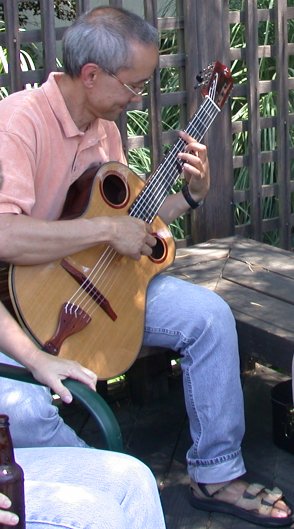 Ko #4 has a quick, powerful voice that makes it easy to play in a lot of styles, and the design and workmanship are at the same high level Kevin has shown in the first three guitars he built. Kevin is a big fan of Chet Atkins, Muriel Anderson, and John Knowles, and he treated us to some real smile-making tunes.
Every body has fun when Kathy Wingert is around. She brought her cool buddy Sheri and a buncha guitars. It was nice to have "Personal E" back for a visit, and everybody loves Gigi, the koa and adirondack F, but I'm afraid they were both overshadowed by the two prototype dreads. Watch for pictures later in this narrative, or go to Kathy's web page for a sneak preview.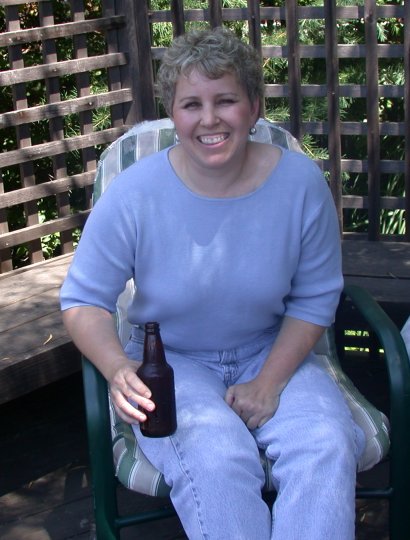 This was probably the only time all day she didn't have a guitar going. She plays so many styles so musically and in such a heartfelt way, always full of the joy that comes from making music.
We had a surprise visit from John Mello, a well known local luthier with a shop in Kensington, CA. John builds classicals and steel strings, and the steel strung guitars share the Spanish foot and fan bracing with the classicals.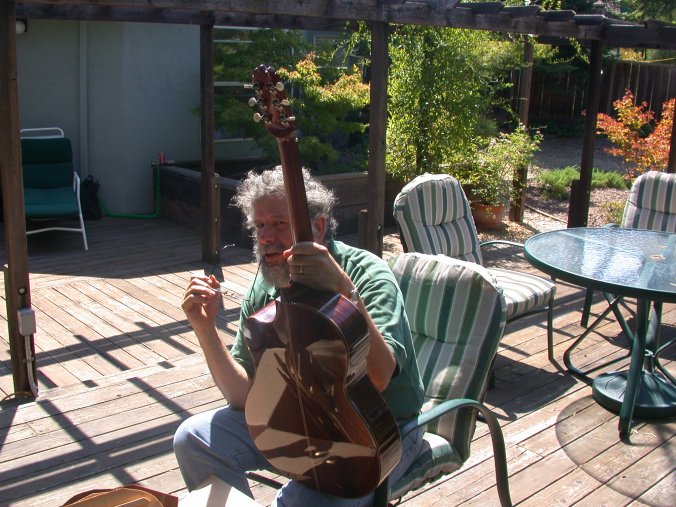 John brought a box of tops to demonstrate some bracing patterns. His guitar got raves from everyone who played it.