Guitar Flangdang 2012
September 15
When I was composing the invitations for this year's get together I started off calling it "Guitar Fandango 2012" and I was pretty happy with that title. But then I remembered the late great Elizabeth "Libba" Cotten, composer of "Freight Train." Her name for the classic parlor guitar piece "Spanish Fandango" was "Spanish Flangdang" and I couldn't resist changing to her version. I'm so taken with the name that I plan to use "Guitar Flangdang" for all future gatherings.
As always, these events are more about the people and the music than the guitars, so I missed quite a few beautiful instruments in my pictures, but I hope that I captured a photo of nearly everyone who attended. This year we added a new feature that I'm pretty excited about, the Flangdang Video Booth, so easy even a guitar player can do it! I used my Zoom Q3HD as the video and audio recorder, but I connected a pair of Audio Technica AT3035 mics to an M-Audio DMP3 preamp and from there into the Zoom. With this rig all connected, the instructions were simple indeed: press the red button, sit on the stool, play/sing, press the red button. Well, I thought it would be easy enough that even a guitar player could do it, but that may have been a bit optimistic. Still, we wound up with a nice collection of clips featuring a handful of the fine players and beautiful instruments present. I trimmed and titled the clips and gave the audio a bit of extra volume, then posted the result on my Homebrewed Music YouTube channel. I created a playlist to collect them all for your viewing convenience.
The first guests arrived well ahead of the party. Our old rock'n'roll buddy, Peter Fraser, showed up several days before, while Kathy Wingert and Gretchen Wenner came a day ahead. Gretchen has a history of bringing along fascinating instruments, this year it was a little National tenor `ukulele koa bodied resonator.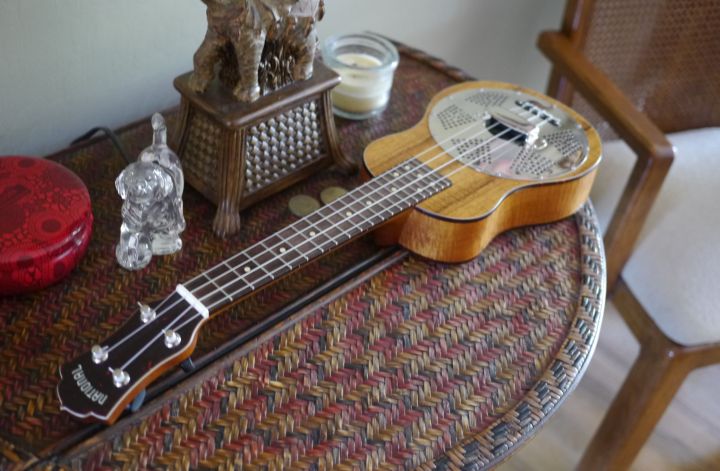 This is the first jam of the day, probably 10 AM, a nice foreshadowing of the day ahead.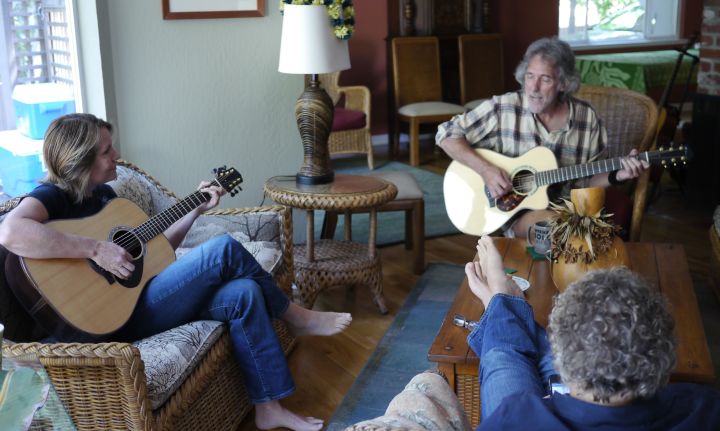 Gretchen and Peter are swapping twangy tunes while Kathy soaks it in. Peter took the long distance prize this year, joining us from Henderson, NY.

When 2 PM came around we had beer and soft drinks on ice, munchies on the table, and guests coming in the door. Mike Nepper was among the first to arrive and he brought along quite a guitar.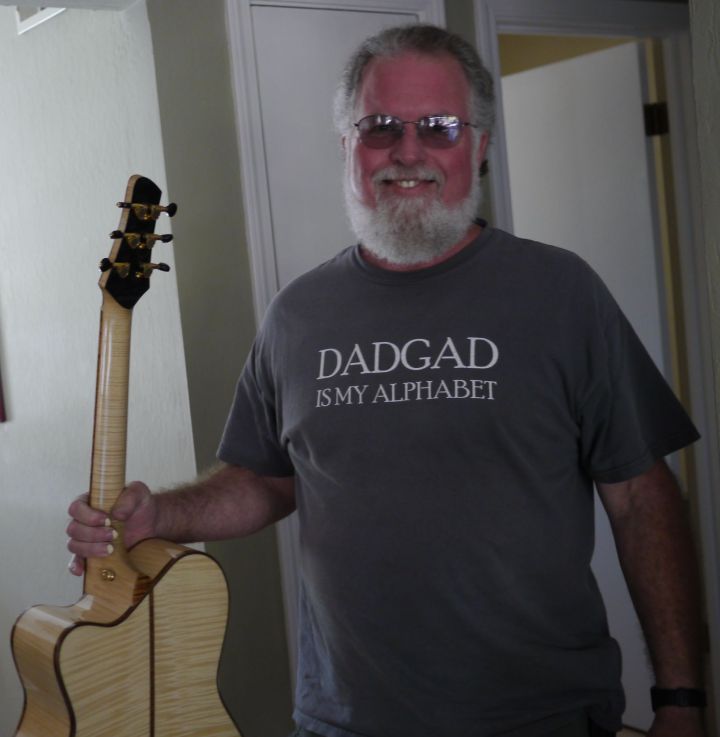 I like to think that I'm immune to GAS (Guitar Acquisition Syndrome) these days, but an instrument like this redwood and maple Yamamoto Talus makes it very hard to stay strong. You can see this guitar in action in two of our Flangdang Video Booth clips.

We have a number of guests who are not guitar players, although most of them are related in some way.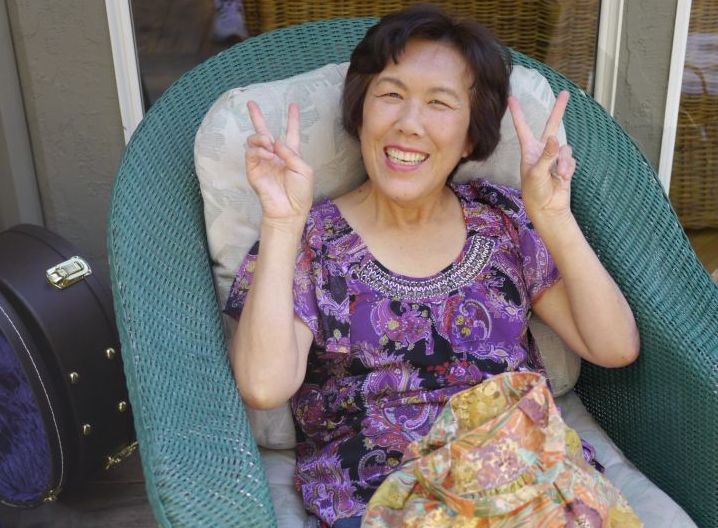 This beaming lady is Yoko Yamamoto, spouse of noted luthier Tsuneyuki (Tony) Yamamoto. Yoko flatters me by saying she comes to the parties for my cooking, and I try to make sure she's not disappointed.

Ahh, here's hubby on the left. There were several Yamamoto guitars being passed around in a variety of configurations. Tsuneyuki is known for stretching boundaries, with large jumbo bodies featuring wedge construction, multiscale multistring instruments, and the slanted neck joint of the Talus model in the previous picture, still there are plenty of us who enjoy his more tradition OMY model.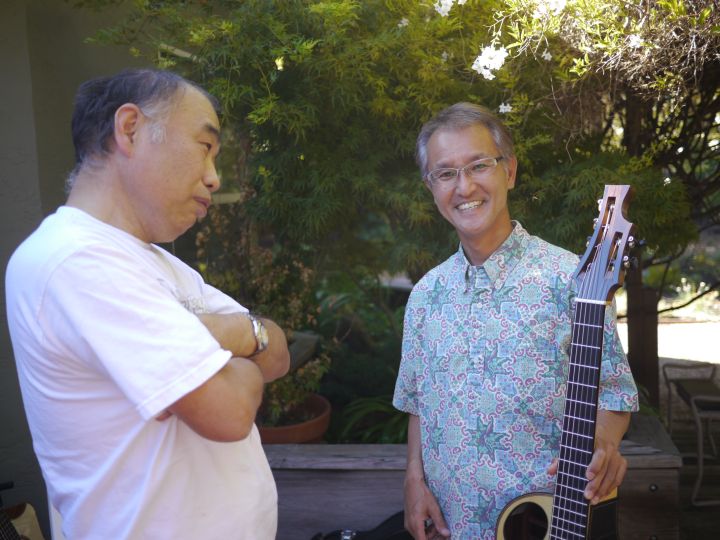 The guitar Tsuneyuki is admiring was built by Kohei Fujii , a part time builder specializing in nylon strung instruments. This dramatic beauty with its offset soundhole and assymetrical peghead attracted a lot of attention all day.

Here's another pair of non-pickers. Lynn on the right created the space for parties like this with her vision of a comfort zone for friends to gather. She also put together all the healthy snacks for the party - somehow my cooking rarely falls into that category.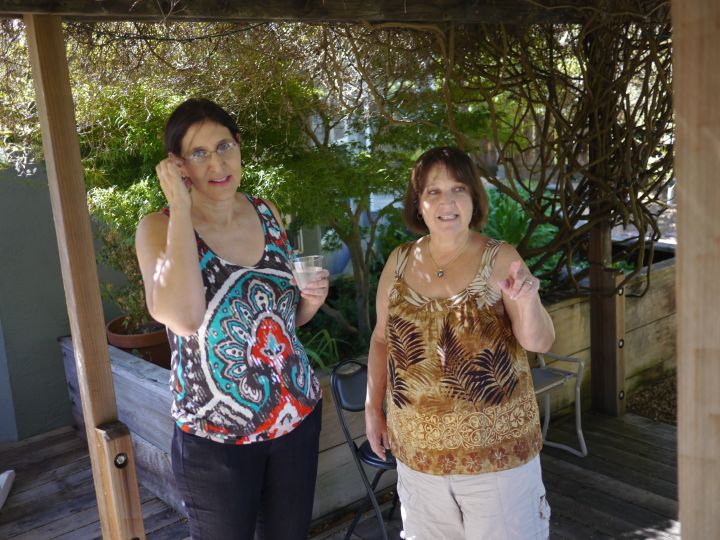 Marcy on the left is a regular at our house, usually accompanying long time family friend, Jim Banghart. You can find him in nearly every set of guitar party pictures, and here he is again.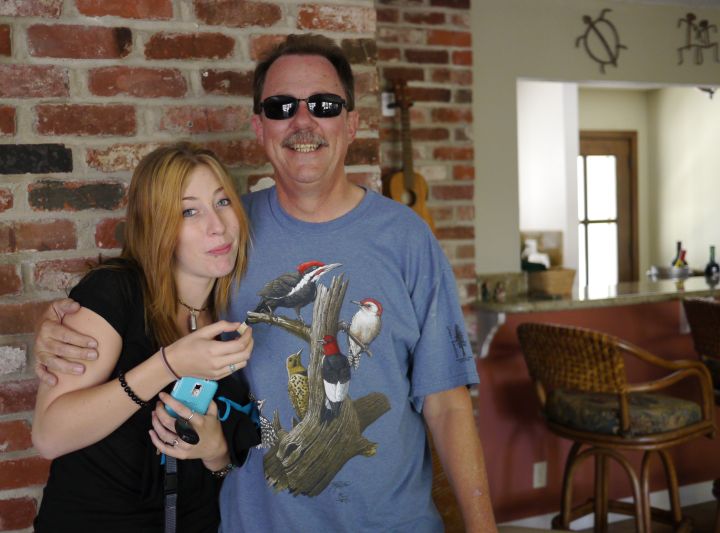 The lovely lady with him is his youngest, the charming Paige. She's made it from awkward pre-adolescent to grown-up beauty since we've been hosting these gatherings.

We get a lot of guitars at these events, it's an exception when someone shows up with only one case. Matt Sarad came prepared with this multi-guitar stand that safely held a quartet of instruments.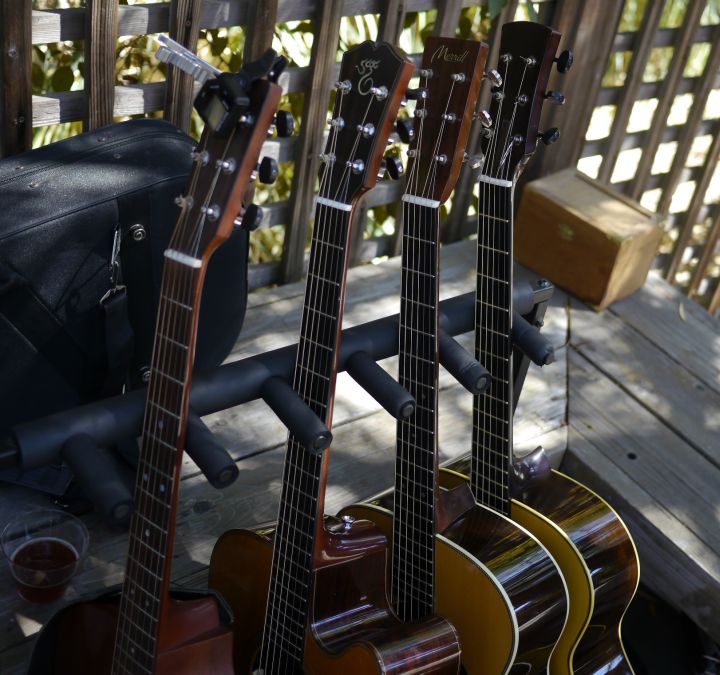 We're looking at Matt Hayden's Martin, then a Santa Cruz cutaway dread, a Merrill OM in adirondack and Braz, and a Laurent Brondel A-2 Carpathian/wenge all belonging to Matt Sarad.