Guitar Flangdang 2012
September 15
Hey, those guitar pictures are fun! Let's do some more. Luthiers seem to love trying out the work of other builders. Here's Kohei Fujii sampling one of Bruce Sexauer's creations.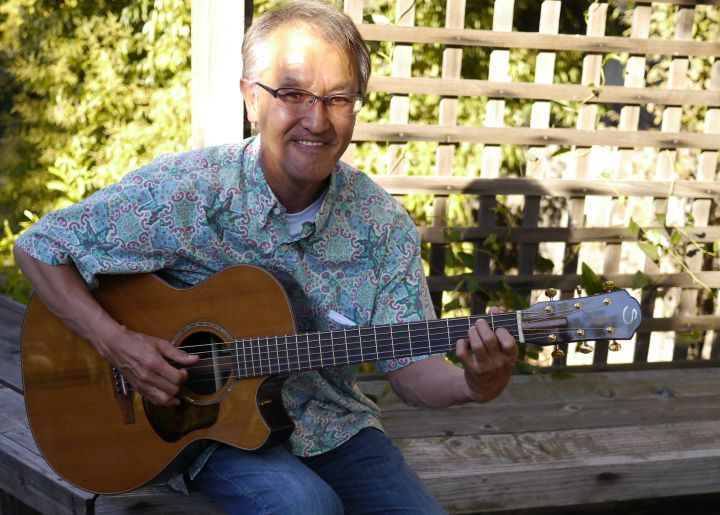 And here's Bruce Sexauer using the Fujii nylon string to jam along with a pack of steel strings.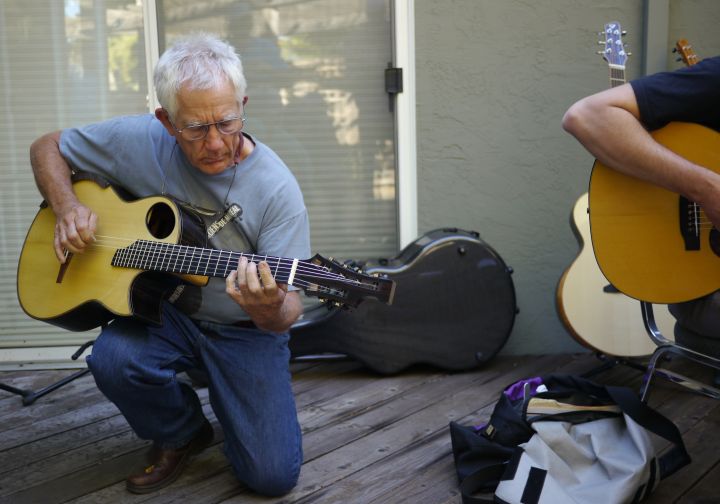 I walked by while Bruce was playing this instrument, and he was drowning them out.

The tour of instruments certainly would be incomplete without a peek at "Old Ugly," a 1948 Martin 000-18 that was found in pieces by Charles Hunt and restored by Lance McCollum.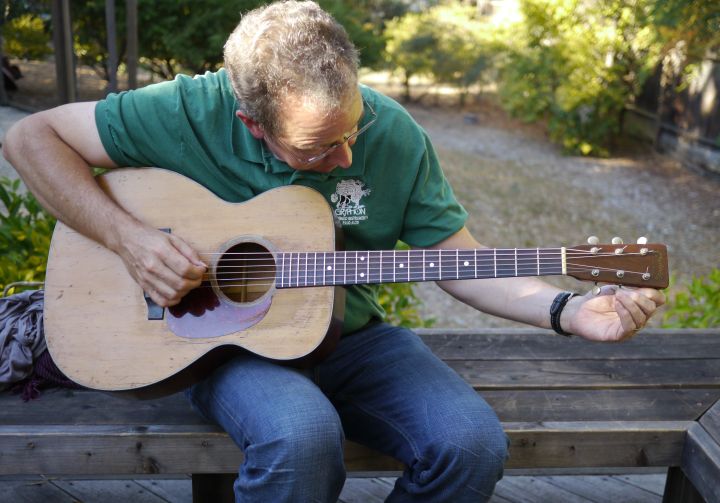 Charles also brought a McCollum GA in Brazilian rosewood and he shared a Video Booth clip using that guitar. We're lucky to have enough space to get multiple jams going.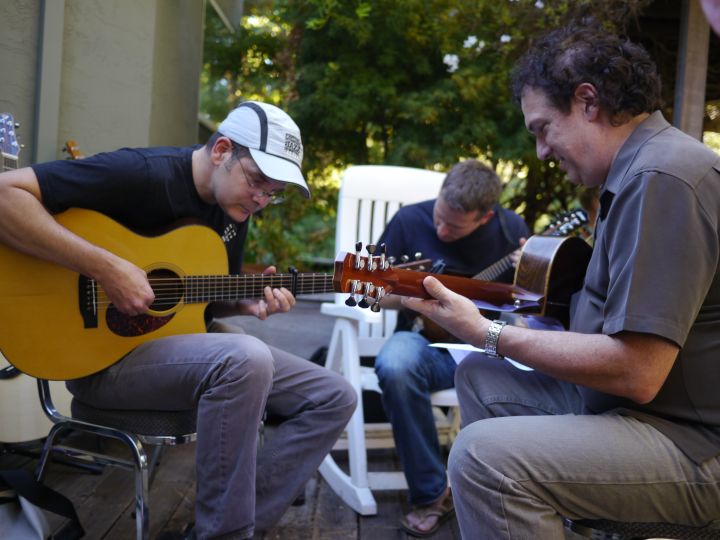 Teja is playing his custom Martin, Dan Gabel brought a mandolin, I can't tell what Doug Young is wielding in this shot. Here's a shot that shows how busy things get. One jam inside, one outside, spectators relaxing, guitar gabbing over there, and even more going on and on in the background.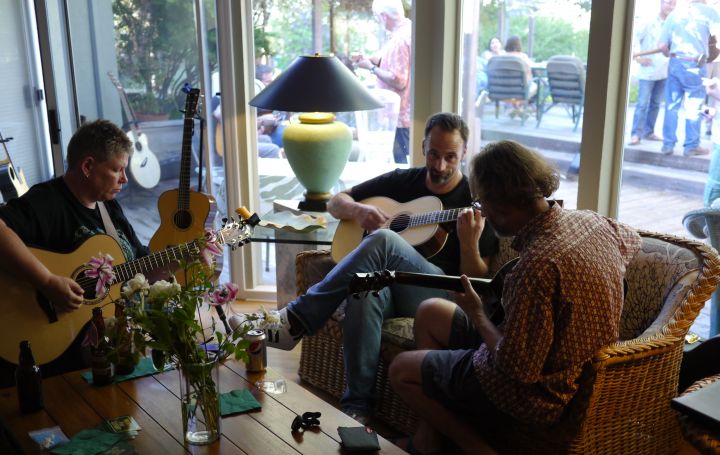 The flowers in this pic were brought by John Mello and grown by his spouse. The players are Svea, Eric Skye, and Matt Sarad.

Meanwhile back in the cookbook room/laundry room/office we find another jam session.
Coleen and Jayne both seem to have found Wingert guitars to keep themselves entertained.

We had quite a gang join us from Bakersfield and surrounding areas.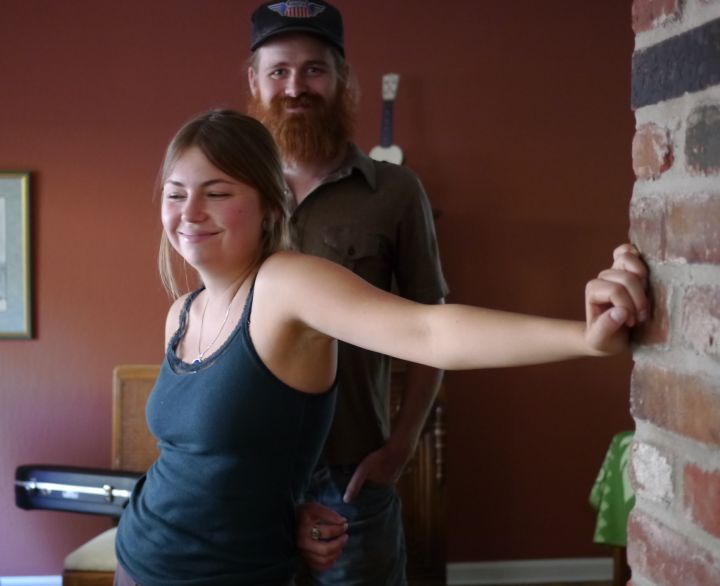 Sarah seemed to find plenty of fun even though she's not a guitar nut. Alex Sarad accompanied dad Matt and eventually wound up with a guitar in his lap. His main instrument is drums.

Sometimes even the most dedicated jammers get sidetracked by guitar gab.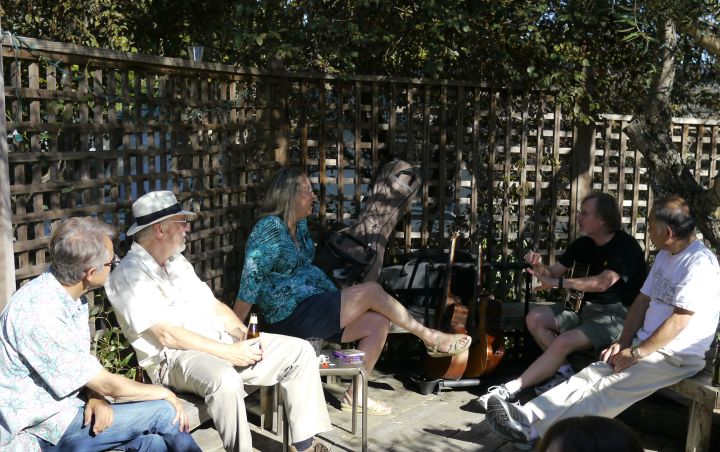 We're seeing Kohei Fujii, Charles Webster, Jenn Martin, Stu Frazier, and Tsuneyuki Yamamoto, yacking away.

While those folks are debating we have plenty of guitar fondling going on. Doug Young is trying one of John Mello's lighter than air creations.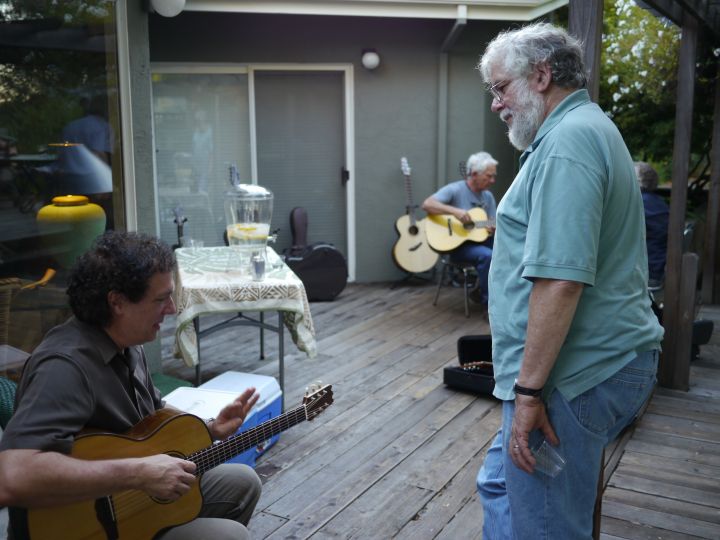 John builds in nearby Kensington, and has a notable history. He has done restoration and repair work on classical guitars by many of the world's most renowned builders, going back even to Antonio de Torres, the father of the modern guitar. His steel string instruments reflect his experience with classical techniques and approaches, and never fail to startle with their huge voice all out proportion to their dainty appearance.

Bruce Sexauer, like John Mello, creates a featherweight instrument with an organic esthetic. I believe this OM is one he built for James of Schoenberg Guitars.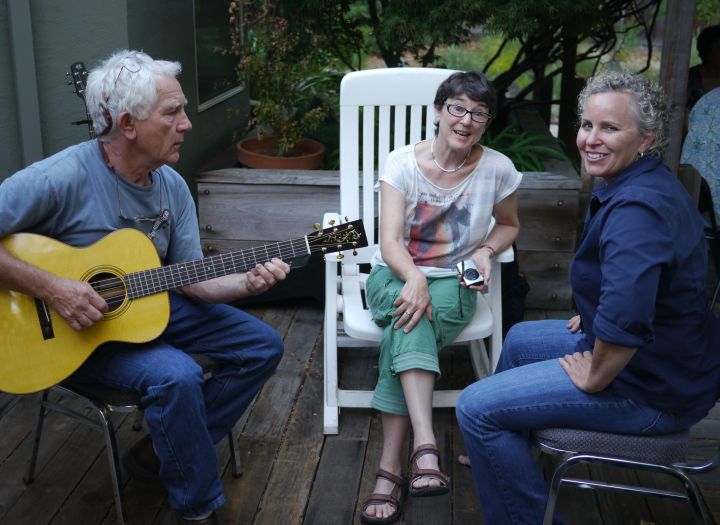 Coleen and Kathy Wingert are in a good mood after listening to Bruce play a number.

Meanwhile it looks like the Wingert Love Fest corner is rolling on.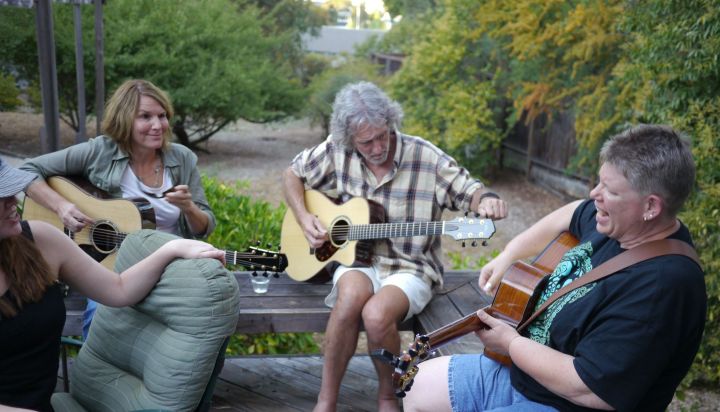 Darie is part of the Bakersfield gang. Gretchen has a very rare Wingert dreadnaught and Peter found another less common model, a Wingert 00. Svea has not put her new Wingert Model F down nearly all day, savoring the Adirondack and Cuban Mahogany combo.