Guitar Flangdang 2012
September 15
There's plenty of guitar fondling, and plenty of story swapping, but there's also a lot of music made during the day. This corner of the main deck is always a popular spot. Remember that stand that was holding four guitars, looks like one of them is getting taken for a ride.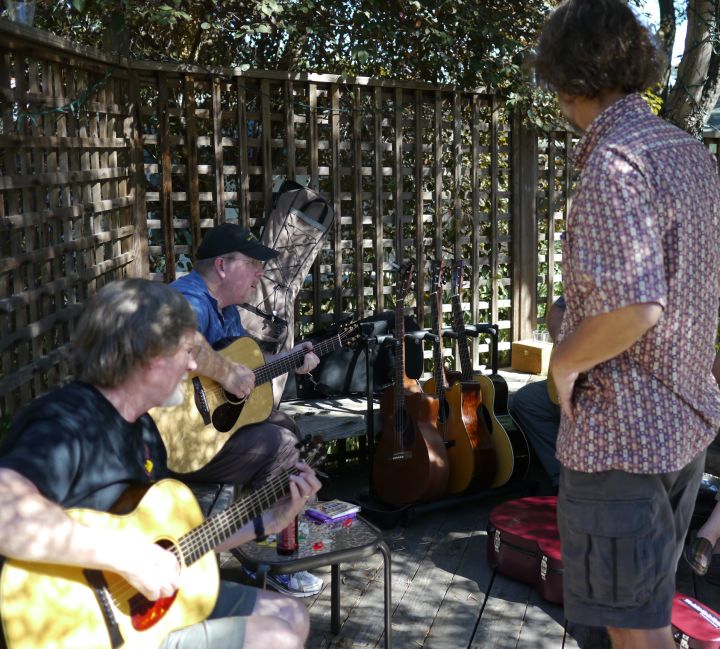 You're seeing Stu Frazier, Matt Hayden, and Matt Sarad's back. Here's a favorite spot for the audience to gather, right next to a jam but still enough elbow room.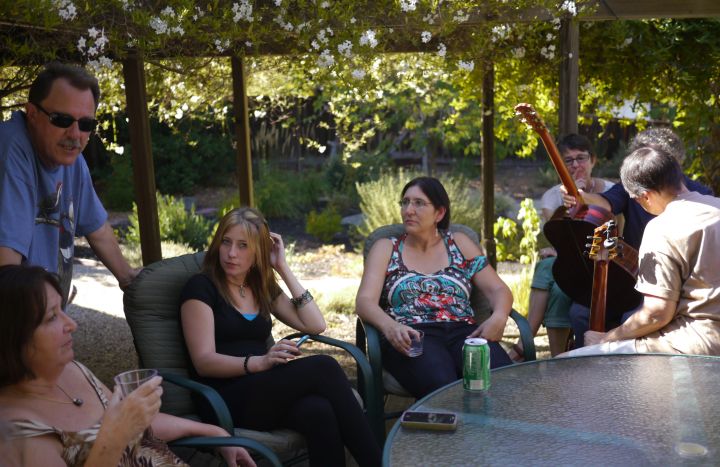 We're seeing Lynn, Jim, Paige, Marcy, Coleen, hidden Kathy Wingert, Jayne's back. Several really outstanding musicians have joined us over the years. One of the stars is our buddy Svea Norton. She's a powerful singer, a hot guitar picker in many styles, bottleneck monster, songwriter, and storyteller.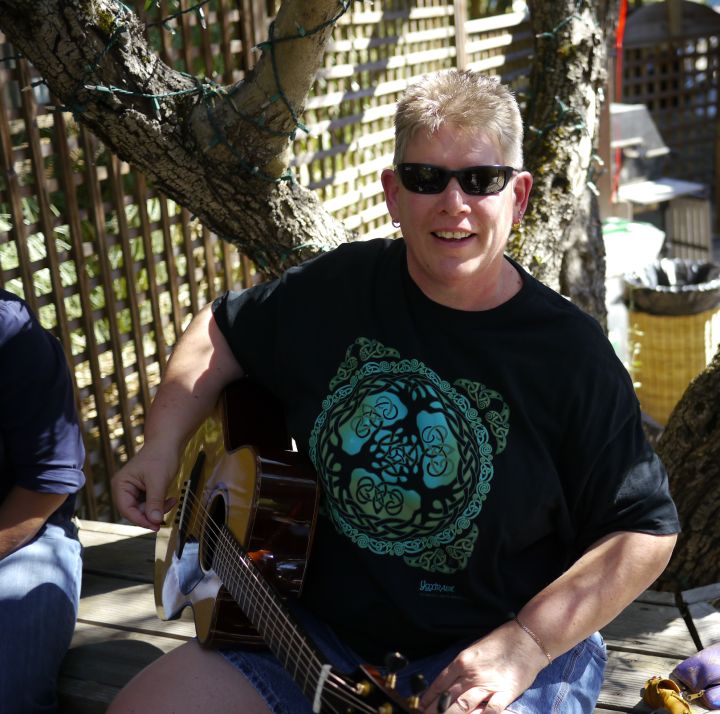 She has a new Wingert F that has won her heart, but here's enjoying Gretchen's Wingert E.

Alan Porton is known around the world as "Surreal McCoy," a name that launched a thousand posts on the Acoustic Player Mag web site a few years ago.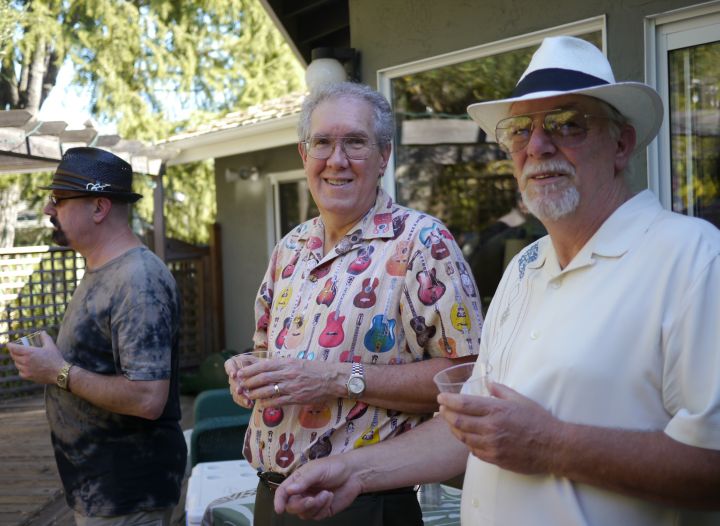 Tom Lamson was a pro jazz player back in the day, and really gets around on his McCollum GA. He was one of the mainstays of the Video Booth. Charles Webster says he's supposed to be retired, but he continues to take stunning images of musical instruments, some of which can be seen on his site .

It's very interesting to hear a luthier talk about their own instrument, they know their creations in a way that we players never will.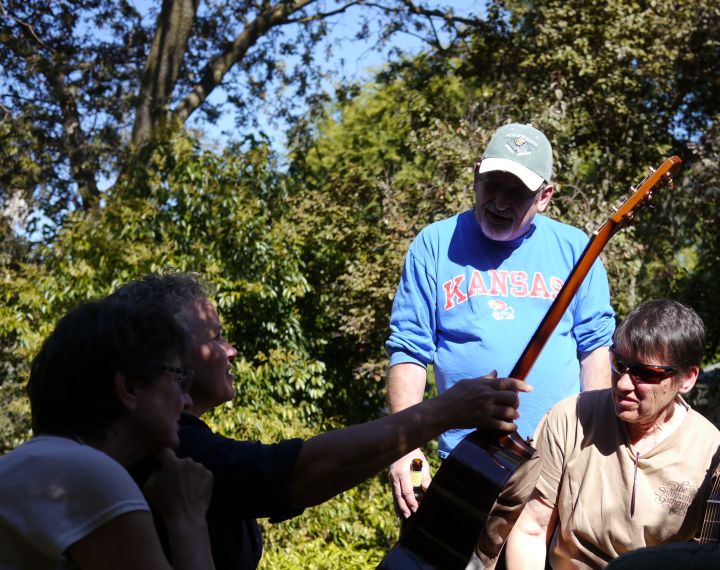 Coleen is intent on Kathy Wingert's commentary, as are Mike Rood and Jayne Schabel.

Some years we've had a strong Hawaiian presence, others less so. This year our kanikapila (Hawaiian jam session) was small but delightful. Betty and Mike Perkins came down from Santa Rosa to add some island flavor.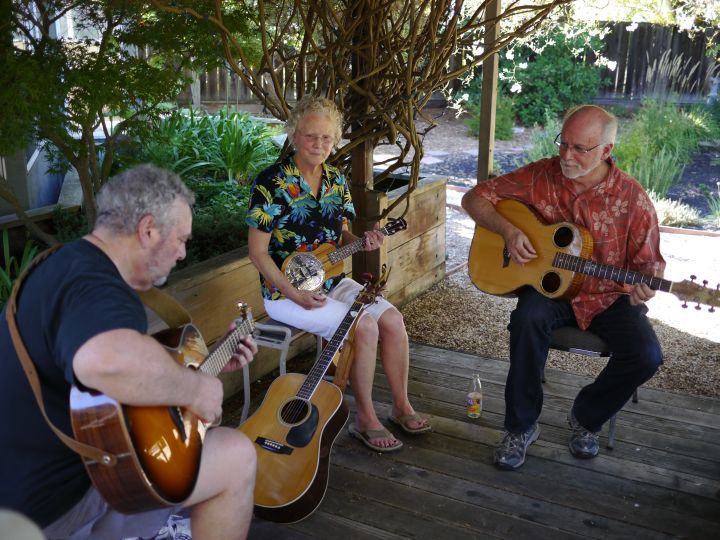 I'm playing my sweetheart Wingert E, Betty has fallen in love with Gretchen's National uke, and Mike has his Pegasus "double puka" slack key guitar. Betty just couldn't leave without the National, so she and Gretchen did a little dealing and the uke found a new home in Santa Rosa.

We may have picked the busiest non-holiday day of the year for our party. There was another guitar party in nearby Santa Cruz, the Napa Aloha Festival, and an Art and Wine Festival in nearby Lafayette, CA. I was invited to all of them! At least two guests had to manage birthday parties that day, and at least a couple had gigs to deal with. These two strolled in after threading the traffic in Lafayette to pay a visit to a new high end guitar store, Stevie Coyle's Mighty Fine Guitars.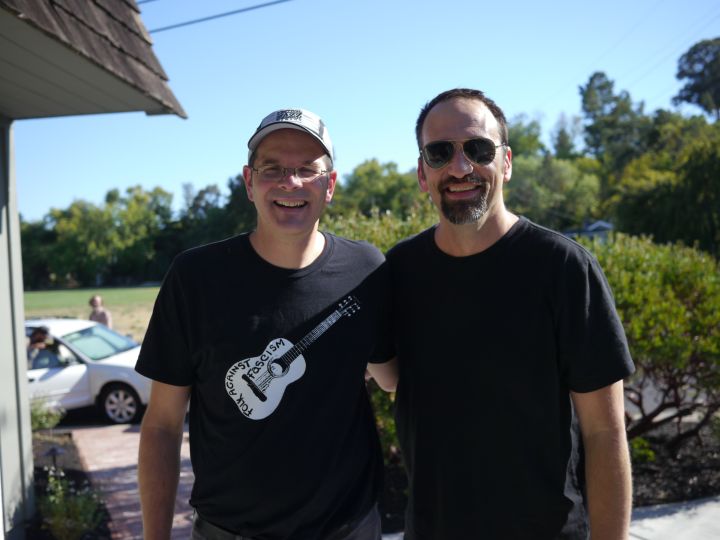 Teja Gerken , international fingerstyle guitar star, Acoustic Guitar Magazing Senior Editor and Bazaar Cafe Round Robin impressario, joins us along with Eric Skye , touring virtuoso jazz fingerstylist and Santa Cruz Guitar endorser with his own signature model. These folks are some serious pickers, and fortunately they both visited the Flangdang Video Booth and left us some sweet clips.

Back inside at the food table, we've served up the chicken taco bar and it seems to be hitting the spot. Doug Young has been one of my inspirations in guitar playing, recording, and video since I met him. He has hosted acoustic guitar shows in the South Bay for years, writes for Acoustic Guitar Magazine, and has published a Mel Bay book as well. These days he has added streaming internet video concerts on Stageit to his endeavors.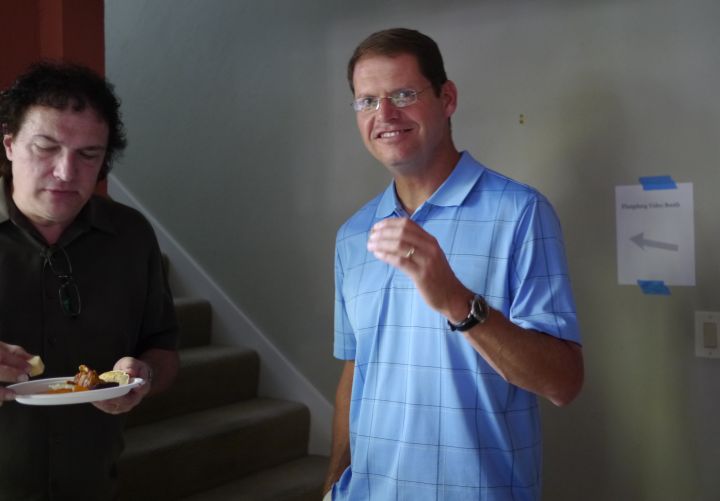 Matt Mustapick builds musical musical instruments besides being a charming person and a fine player. Both these guys clearly followed the sign on the wall - it's pointing up the stairs to the Flangdang Video Booth, where they both paid a visit and left us some music.

But what about some pictures of guitars? OK, here's Coleen wrapped around my spruce and walnut McCollum Grand Auditorium.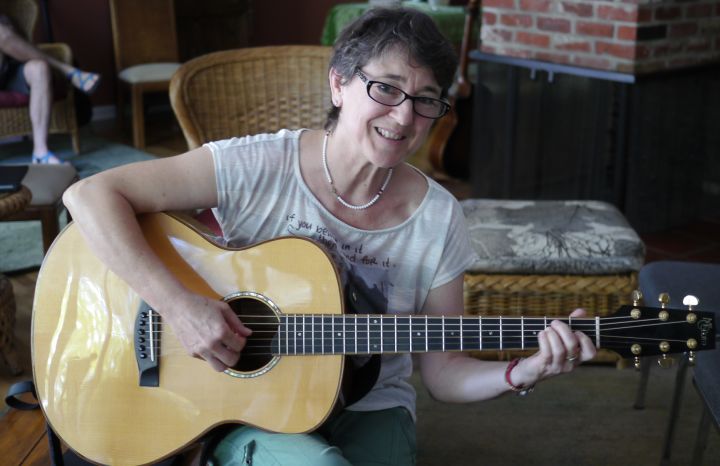 And here's Tom Lamson trying out a Mustapick Arena OM.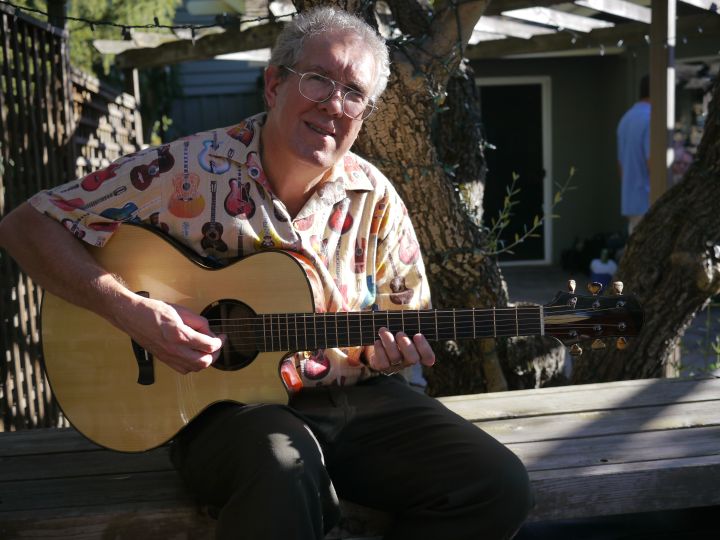 and finally how about Tsuneyuki Yamamoto enjoying Alan Porton's magnificent Merrill OM.