Guitar Flangdang 2012
September 15
The gazebo is a nice escape from the main deck, crunch down the gravel path and jam with the scent of the eucalyptus all around.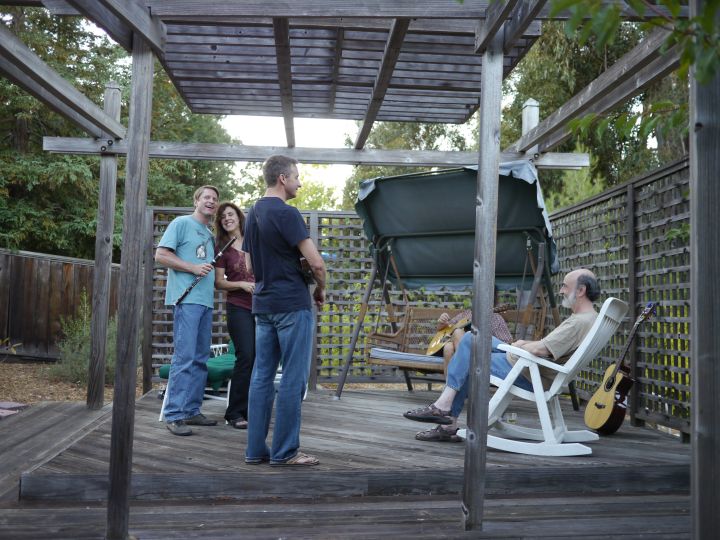 That's Dave Ogden holding the flute, Brenda Hunter, Dan Gabel, Matt Sarad behind the pole, and David Siegler in the rocker.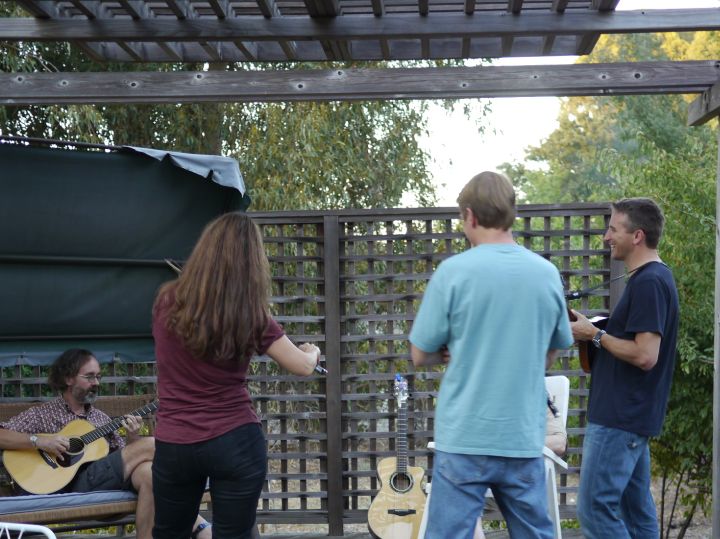 And another angle just so we can see Matt Sarad hold a crippling chord shape while Brenda saws the fiddle, Dave Ogden waits patiently while hiding David Siegler from view, and Dan Gabel cracks up.

The light is starting to fade now but the party rolls on. James from Schoenberg Guitars has joined us for the last few parties even though he gets plenty of guitar talk at work. He's playing one of Bruce Sexauer's here while Bruce and Kathy Wingert share luthier stories.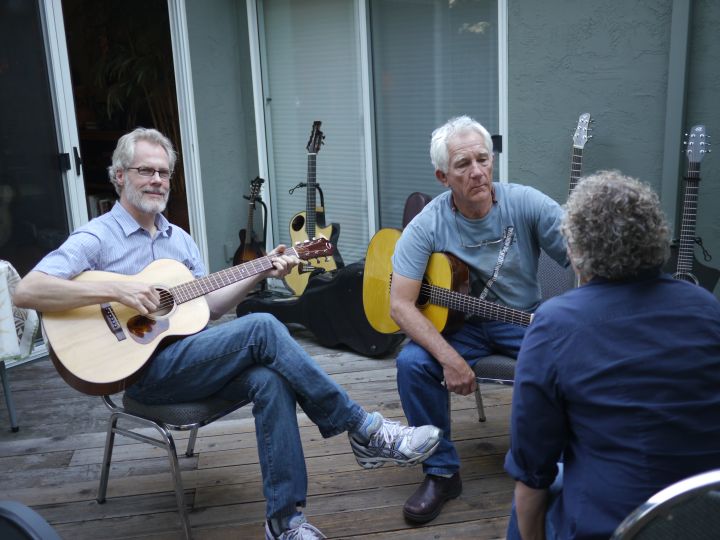 Notice the lineup of guitars behind these folks. The variety and quality of instruments that show up is overwhelming to me, but what a great way to get whelmed.

Cooking for a crowd is a particular kind of fun. I try to balance flavors, have some vegan choices, and minimize cleanup and spills.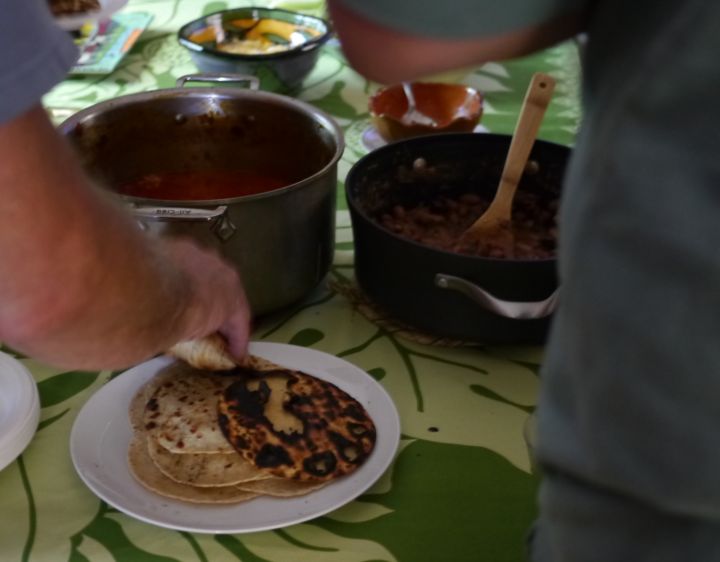 A taco bar seems to hit all the points pretty well. This year we had chicken chili, vegan beans, grilled tortillas, and plenty of fixings. I baked biscotti and brownies for the sweet touch, and wound up running off a late evening supplemental pan of brownies when the first batch ran out.

Late in the evening the last of our Bakersfield gang arrived, Richard Chon joined us after his wedding gig and a fine twangy jam ensued. Richard is a multi-talented musician, having played with Dan Hicks and the Hot Licks, leading the western swing Saddle Cats, and covering classical and pops in various ensembles.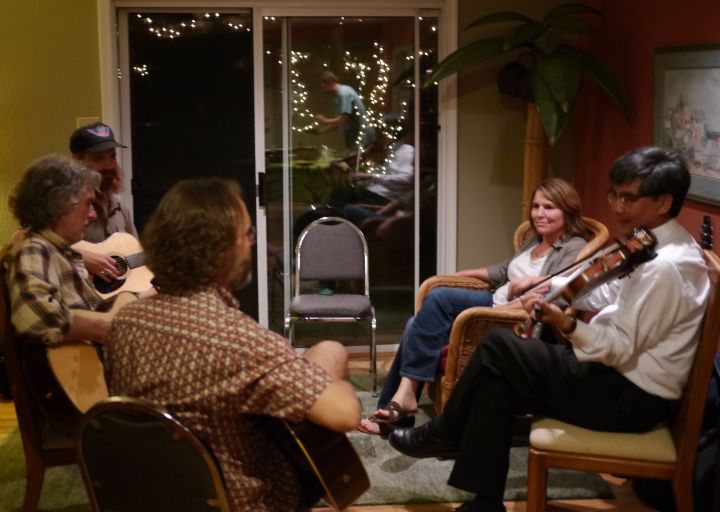 Peter Fraser, Alex Sarad, Matt Sarad, Gretchen, and Richard, with the lights on the deck framing Dave Ogden's reflection. This session went on for quite a while with Bob Wills and Merle Haggard getting most of the props.

As always I missed more than I caught with the camera. There were many guitars that didn't get beauty shots, and all of them were worthy of a photo essay of their own. We had exotic hand builts, vintage restorations, exquisite inlays, dramatic woods - the whole gamut of guitar fascination.

I missed most of the jams and solo performances as well. There was music being made in every corner the whole day long, whether original or cover, bluegrass or Beatles, swinging jazz or soothing Hawaiian or raunchy barroom blues.

Worst of all I missed getting photos of some of our guests. Stevie Coyle was tending to his new Mighty Fine Guitars consignment shop and joined us near the end of the evening. He treated us to a stunning mini-concert on various Wingert guitars as the evening drew to a close. Sorry, Stevie, but I was too busy dropping my jaw to remember the camera.

When we hosted the first of these gatherings back in 2001 I never would have predicted the outcome. We've kept going for over a decade, heard hours of heavenly music, and fondled hundreds of guitars. Most importantly we've met dozens of new friends. It's going to be hard to top this year's fun, but we'll be back in 2014 to try.