2008 Guitar Get Together
June 7, 2008

Time flies they say, and it's surprising to look back and realize that this was our sixth guitar fondling hoe down. Lynnie says we should start doing one every year instead of alternate years, because it's just so darned much fun. I have to start with an apology - I didn't do a very good job of documenting the incredible number, quality, and variety of the guitars people brought to this party. People brought glorious examples of handmades, small shop guitars, and Martins - hey, where were the Gibson folks? But as I learned years ago, the guitars don't make the party, the people do. So my camera work focussed on them, and some great guitar pics were not taken. Luckily we had a couple of other cameras at the party. Gretchen Wenner and Brandt Williams both shared their pictures with me so you'll get a better idea of the fun we had.
In a way, this might be called the year of the uke. We remodeled our living area this year, and I succeeded in getting lots of `ukulele into the decorating scheme. Then Gretchen arrived with two very cool ukes. And Kathy Wingert tells me she is nearly finished building her first jumping flea. Bruce Sexauer proudly announced that he had just finished his first as well.Then a few folks from Lynn's hula halau arrived and brought ... ukes!! So watch for those little beauties, they're scattered throughout the photos.
Those of us in the market for handmade guitars probably like our luthiers to be nose to the grindstone types, busily scraping and bending and carving those hunks of wood into our favorite instruments. But even though we're interrupting their work, it's a lot of fun when we can coax a few of them out of their workshops to show us their latest creations. This year we had some new builders along with some familiar faces, and one builder who doesn't build guitars at all.
Kathy Wingert on the right has been a buddy for quite a while now, and has attended every party since the first one. We met her at one of the first RMMGA parties we attended, Vince Motel's gathering in Norco, CA. Even then Kathy was known as one of the top luthiers in the US, a dedicated solo builder who sought perfection in every aspect of her guitars.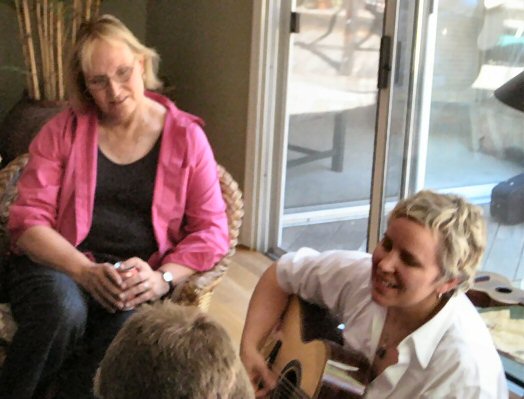 This year she brought along a baritone that combined a soothing rich voice with such easy playability that each person who picked it up never wanted to put it down. As if her building talents aren't enough, anyone who has heard her will tell you that Kathy is a player and singer who shoots for the heart every time she voices a note. She was one of the song circle sparkplugs all day. Jenn Martin on the left has visited us for a house concert, this is her first time at a guitar fondling event.
Only one guitar builder I know rides a vintage Moto Guzzi V Twin. I forgot to ask Bruce Sexauer how he fastens the guitar to his rig, but I'll bet he makes an impression on his trips. Bruce is another great player as well as a talented builder. He's active on the 13th Fret forum sharing his techniques and philosophies. He has been building for a number of years and has created some very distinctive instruments. These days he builds vintage replica interpretations for Eric Schoenberg, and a wider range of styles under his own name. We first met at our 2005 party, and we've had some fine times since then sampling and discussing guitars. Bruce is a proponent of hand applied varnish finishes, and his guitars have a rich warm glow that is very inviting. I just wish he'd brought his new uke - but I guess that would have upset the balance on the Guzzi.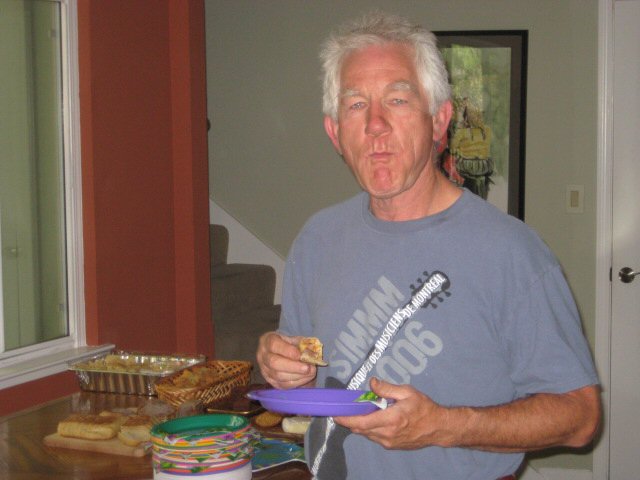 We caught Bruce at one of those moments that a cook loves - somebody digging in and obviously enjoying the food.
We met John How for the first time at the 2006 party and fell in love with his distinctive instruments. John makes guitars that make you feel like an old bluesman as soon as you pick them up.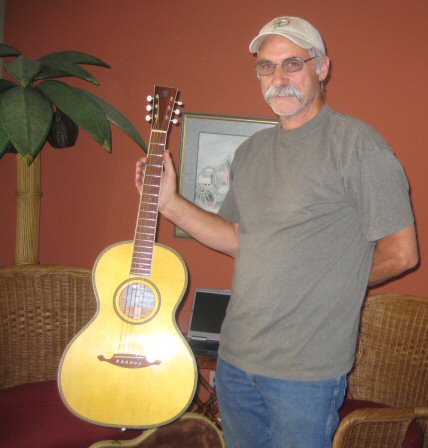 John combines a charming vintage visual aesthetic with bracing concepts outside the Martin clone pattern to create guitars that stand out from the crowd. My photography skills are keeping you from seeing a work of art as it should be seen, so be sure to visit John's site to get the real impact of his work.
Tony Yamamoto on the left is another builder we first met at the 2006 party. Tony has created a remarkable body of work in what seems like a few short years, with his user replaceable necks, OM-Y and Talus body shapes, and a number of other innovations. He is a regular visitor to the Mission City Coffee concerts hosted by Doug Young, and it seems like he brings a remarkable new guitar there every month.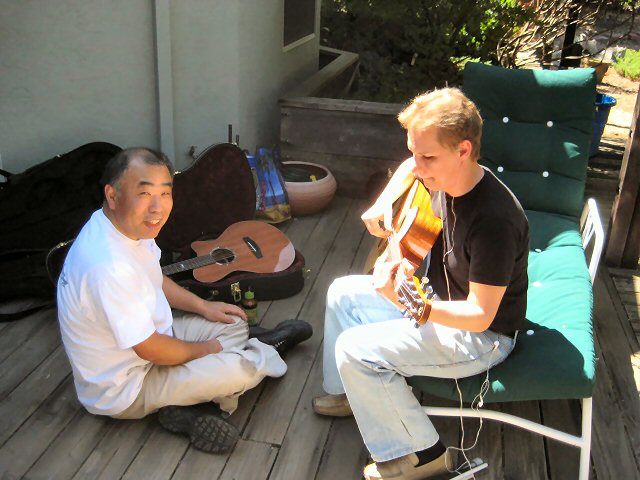 Victor Tsaran is a Ukranian fingerstylist. Here he's trying Tony's Talus with adirondack top and offset soundhole. This is one of the guitars I mentioned that should get a photo essay of its own.
Santa Cruz, CA is ground zero for remarkable guitar builders, and Matt Mustapick on the right certainly fits in that category. Matt made a splash the first year I saw him at the Healdsburg Guitar Festival, and has become a generous contributor on various discussion groups. When Matt offers his opinion on a topic he backs it up with plenty of experience and a real passion for music, guitars, and how they work. Matt has embraced many of the innovations that make modern handmade guitars so compelling, offering a wide range of exotic woods, bevels, multi-length scales, and more.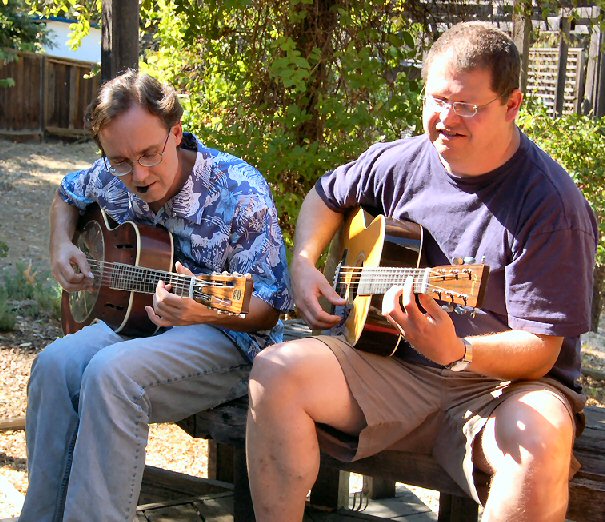 Here are two Matts digging in to some interesting instruments. Matt Sarad on the left has Brandt Williams recent National El Trovador reissue, Matt Mustapick is pulling the tone out of Marshall Newman's Merrill.
We're mostly a steel string group, but Gil Carnal brought some innovative classical guitars to tease us with other possibilities. Gil (Jheel) builds a body with a rigid structure, then suspends a lattice braced top from this rigid frame. He also installed ports in the leading shoulder edge so it was easy to admire the architecture inside. I really enjoyed the deep slightly v'd neck of this guitar, along with a big rich but even tone. It was enough to make me want to try standard tuning!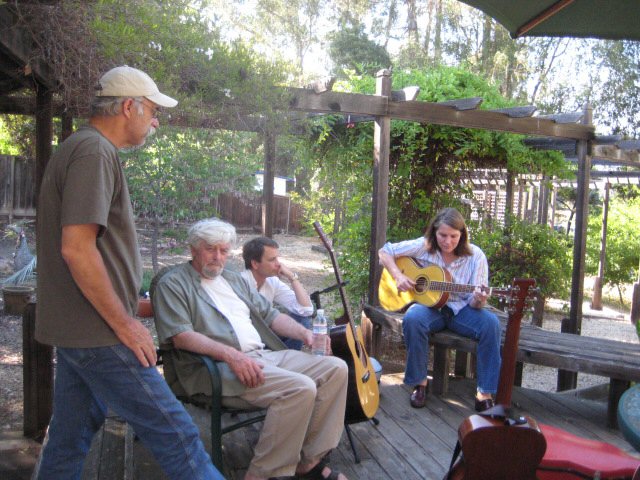 Here's John How, then Gil, then Bryan Kolner, who's zeroed in on the John How parlor being played by Gretchen.
Don Hindenach isn't a guitar builder, and he didn't make it to the party, but he did send a representative in the form of a gorgeous combo amp he designed and assembled. Don constructed a three way cabinet in a very space efficient format by aiming the 12" woofer to the rear.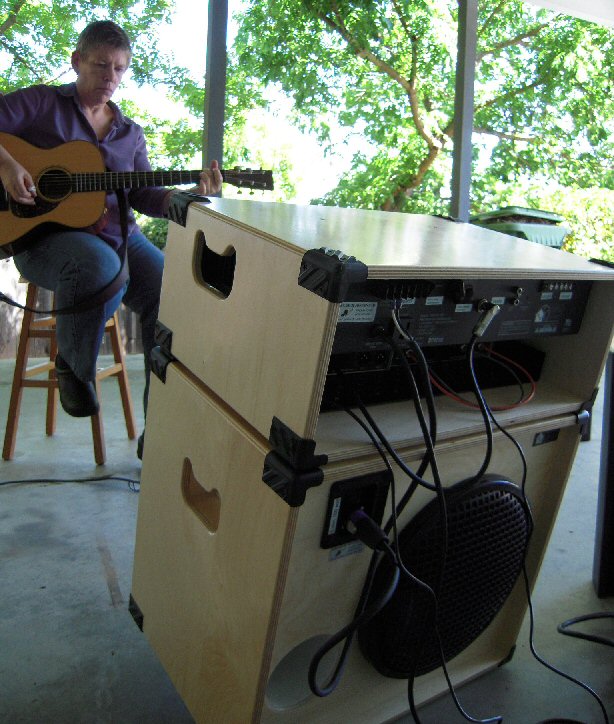 Svea is giving it a test drive here. She takes her work seriously.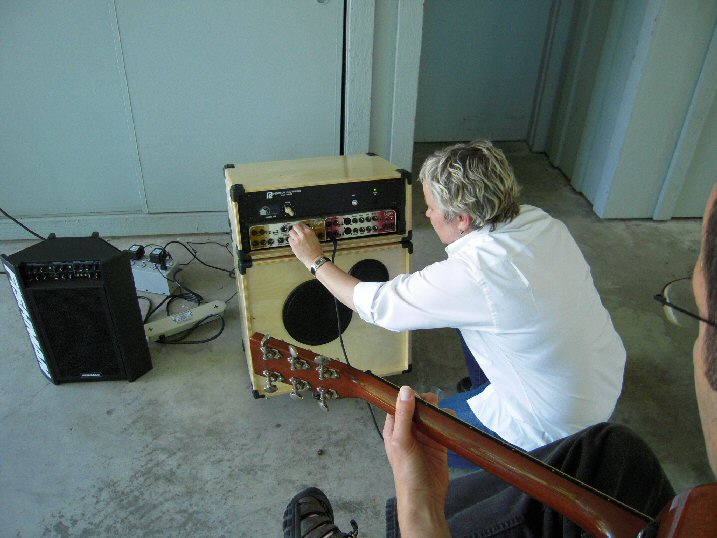 Don selected the drivers, designed and built the crossover, and designed the cabinet. Then he selected off the shelf components for the power amp, preamp, and EQ section and hand-tweaked them to complete the assembly. Here Kathy tweaks the knobs while Teja Gerken plays a K&K equipped OM-18GE through the amp.
Alan Perlman didn't make it to the party either. While he was on the way he was rear ended and wound up in the emergency room. He said that the way his Honda protected the three guitars in the trunk made his day.