2008 Guitar Get Together
June 7, 2008
There's just something about a resonator guitar, isn't there? Ace Batacan is busting up with fun playing the National El Trovador reissue owned by Brandt Williams.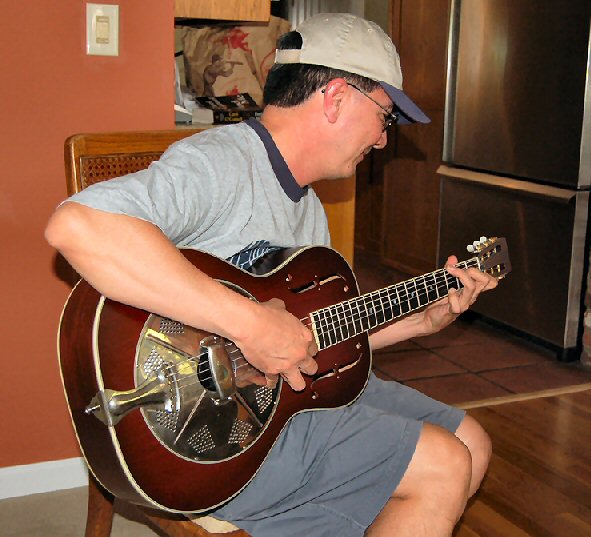 Ace is a smooth fingerstyle player, influenced by Chet Atkins but with his own personal style. His CD, Coastin', was engineered by Nashville guitar star, Pete Huttlinger. Ace is one of the folks who plays at Doug Young's Acoustic Showcase.
Here's Alan Porton sharing the sound of his "new to him" Martin 00-21. Not only did I foolishly miss a chance to play that beautiful thing, I didn't even hear the story of how it came to Alan's hands.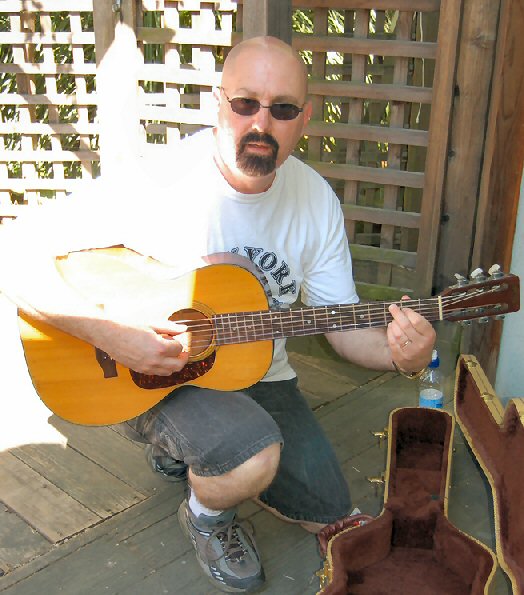 Alan is a moderator on the Acoustic Player Magazine Forum, one of the places I advertise our little shindigs. This is the second of our parties Alan attended. He's currently on a search for an OM-18, and I'm thinking this weekend made narrowing his choices harder than ever.
Brenda is one of my slack key playing buddies, she is an advanced student of Keola Beamer and duet partner with Chris Yeaton.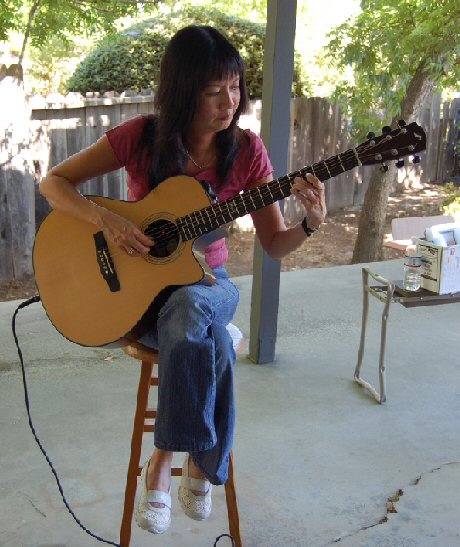 She spent most of the afternoon in the backyard Hawaiian jam, but she also enjoyed some power time, plugged into the Hindenach amp. We were both surprised at how much she liked being amped up.
It's rare that spouses share the passion for guitars, so we feel honored when some of them join our party. Here are Cindy and Teri, soaking some late afternoon sun.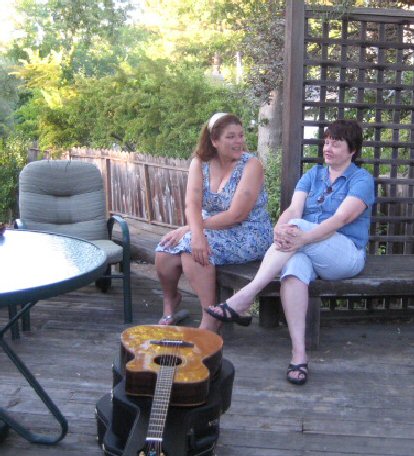 I always assume they are tempted by my cooking.
Here's some more of that resonator magic, this time a National Radiotone Bendaway - heck, even the names of these things are totally cool.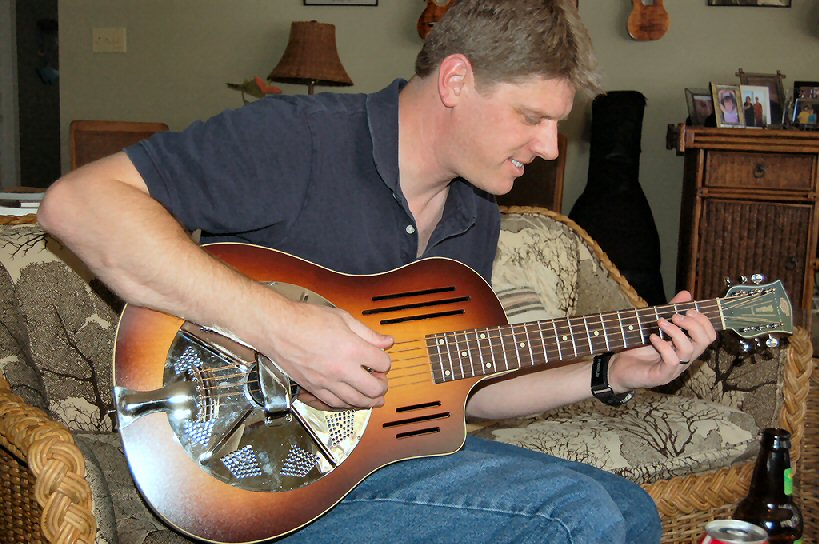 This beauty came to the party with Jeff Holston, here it's being thoroughly enjoyed by Daniel Nestlerode.
Marshall Newman has been joining us for a number of years. He has a lovely selection of guitars to add to the festivities. This year he was passing around a Merrill OM-28 in Brazilian.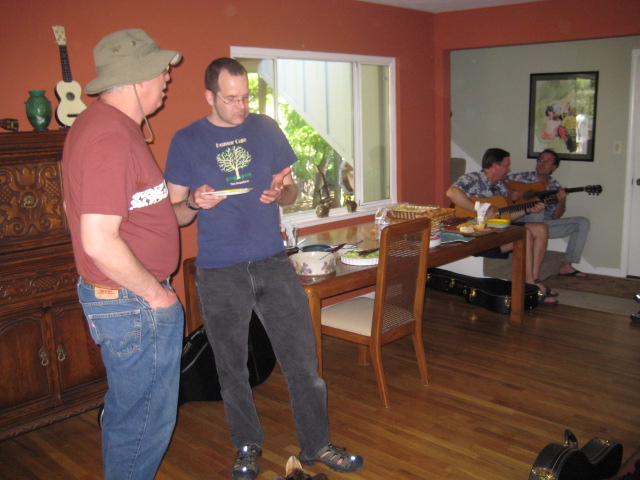 Marshall and Teja are clearly unable to move very far from the food. The swing jam is still chunking away on the stairs.
Jim Banghart is one of our oldest friends, and he loves guitar parties. He says he gets a years worth of live music in one day.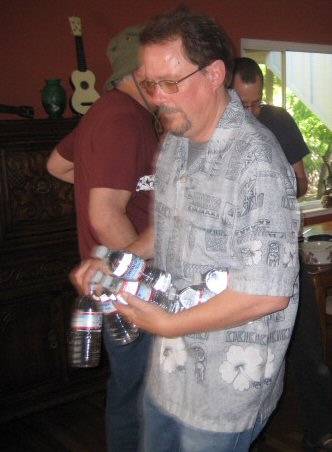 He not only pitched in on refilling the drink cooler, he also shot a lot of these pictures. Then he helped out the next day by coming over with his family to wipe out the leftovers.
Jim is married to Tami, and you're seeing her artistic eye in all the interior shots. She is Lynnie's decorating adviser, color helper, and lamp specialist.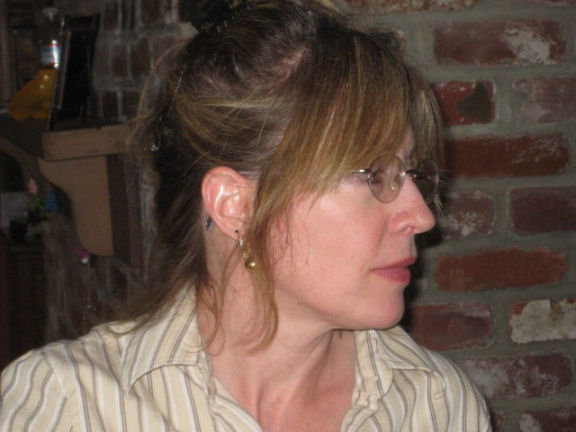 Beyond that, she created all the paintings you see in our home. I hope they show up in enough shots to let you appreciate her talent.
Tom Lamson was at that legendary Acoustic Guitar Magazine open mic in Livermore. Tom has a deep jazz background but he's been seduced by DADGAD fingerstyle as well.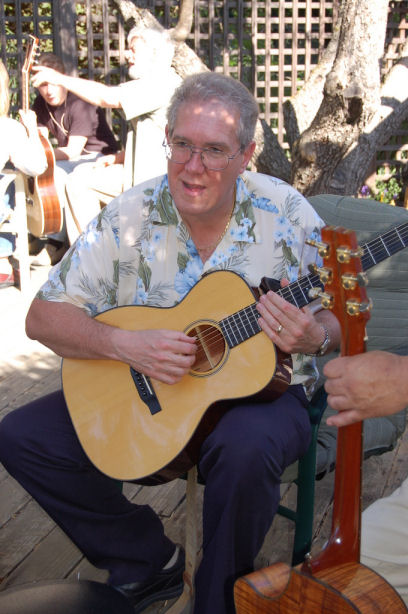 I'm not certain but that might be an OM Tom built himself. It's a sweet playing instrument, and he had enough fun doing it to start another one. That might be Tom's McCollum in the lower right.