2008 Guitar Get Together
June 7, 2008
Teja Gerken is a one man acoustic guitar movement. He's the senior editor of Acoustic Guitar Magazine, a recording artist, and he organizes and hosts a long running acoustic guitar showcase at the Bazaar Cafe in San Francisco. We first met a number of years ago when the magazine sponsored an open mic at Mike Ferrucci's Fine Fretted Friends guitar emporium. That night was not only a lot of fun, but the point where I connected with a number of fine acoustic musicians. In fact, a number of the folks at this party were also at that open mic.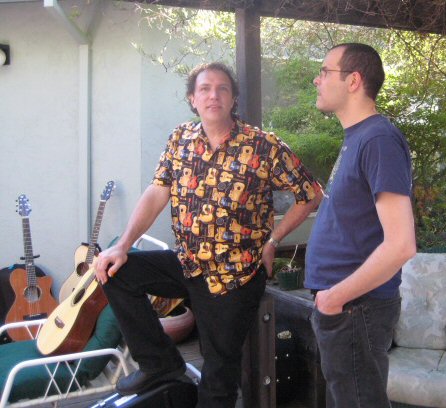 Teja on the right with Doug Young. Doug also hosts an acoustic guitar showcase, featured on his website. He's also a recording artist, a recording engineer, and a regular contributor to AG Mag. Folks around the world visit his website for his justly famous acoustic pickup comparisons. To top it off, he recently published an instructional book on DADGAD tuning for fingerstyle guitar and published by Mel Bay. I give Doug a lot of credit for the beautiful job he did mixing my CD, plus he clearly had the most guitaristic shirt at the party.
Dan Gabel was another guest from AG Mag. Dan clearly enjoyed seeing our little community of acoustic guitarists do their thing.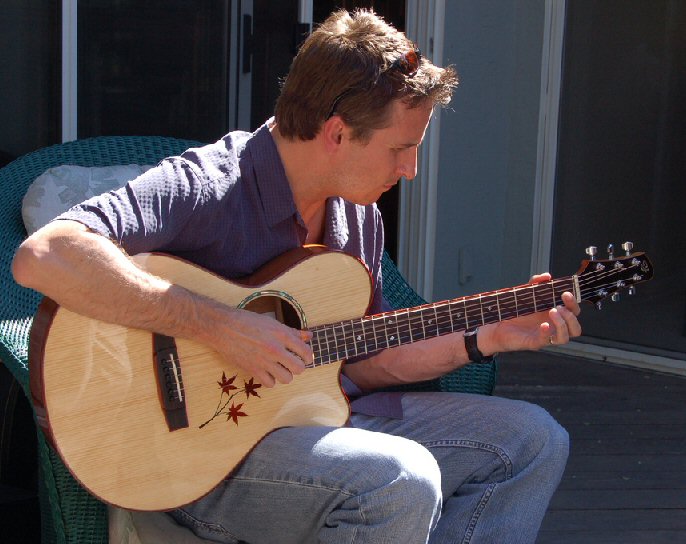 He jumped right in to do some guitar fondling of his own. This is one of Tony Yamamoto's latest creations, a Talus body with bold adirondack spruce top and offset soundhole.
We're incredibly lucky here in the SF Bay Area to have Schoenberg Guitars and their incredible collection of instruments just waiting for us to drop in and visit. James left the shop after a hard day of fondling instruments to come out to Walnut Creek and fondle some more.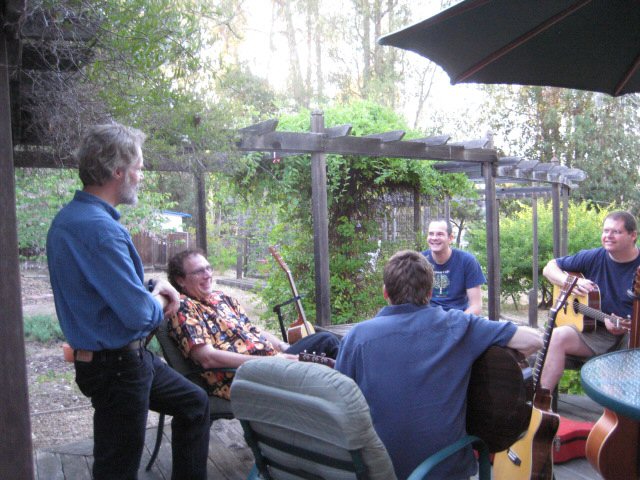 James, Doug, Dan's back, Teja, and Matt Mustapick - this corner of the deck was devoted to the OM shootout.
Our guests actually began arriving on Friday, when Steve Hawkins pulled in after making the long trek from Portland, OR. Steve is a DADGAD specialist and a prolific composer. He's also quite a collector of fine handmade guitars.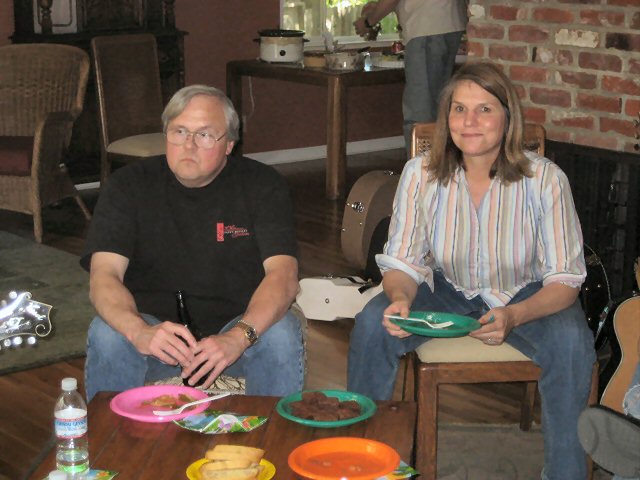 Steve paused for a moment with no guitar in hand to sample the delights of the taco bar. I don't know how he and Gretchen can resist those home made brownies and biscotti, but they did. Gretchen was part of the terrific Bakersfield contingent, and she's a recent convert to the joys of `ukulele.
Brian Kolner has been joining us for these parties for a number of years. His collection of guitars includes some of Bozo Podunavac's exquisite instruments, and I think this marks the fourth consecutive party where I've failed to capture a picture of one of those beauties. Brian's latest is a 50s Martin 000-28 that he had converted to an OM. San Francisco luthier Alan Perlman assembled the pieces to create an exquisite instrument that features the stunning straight grained Brazilian you just don't find anymore.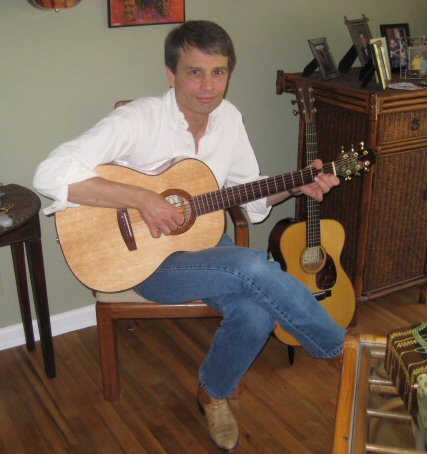 I'm not sure but I think the guitar Brian is playing is Matt Sarad's Mustapick, a very smooth playing fingerstyle tool.
Sharon Riggan is another of the Bakersfield gang. She brought a great laugh and a really adorable Sheltie along with her.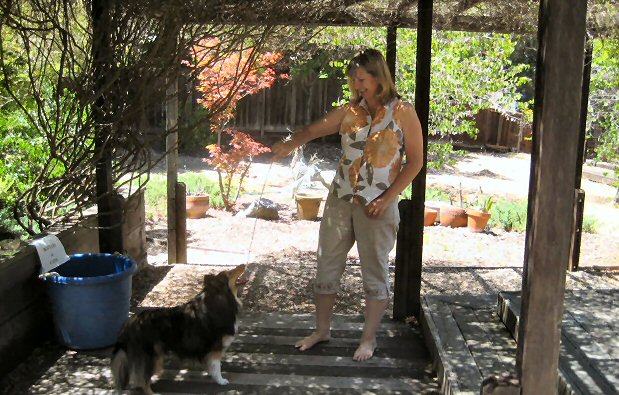 It's been about a year since we lost our Rusty pal, so it was nice to have a sweet puppy around the house for a couple of days.
David Siegler has been to a few parties, and he's a great guest. A couple of years ago he brought an original National El Trovador that was one of the most compelling resonator guitars I've ever seen.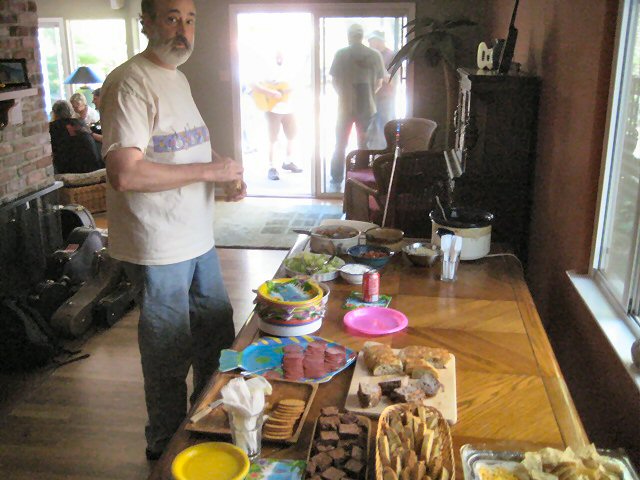 This end of the table holds the snacks, the far end has the fixings for the taco bar. We found some delicious handmade maize blanco tortillas so we whipped up some chili, some fajita style chicken, and various condiments to build custom tacos. Must have been OK, there was not one tortilla left by the end of the party.
The person who really sparkplugs these events is my sweet Lynnie. She isn't a guitar player, but she really enjoys having these folks around.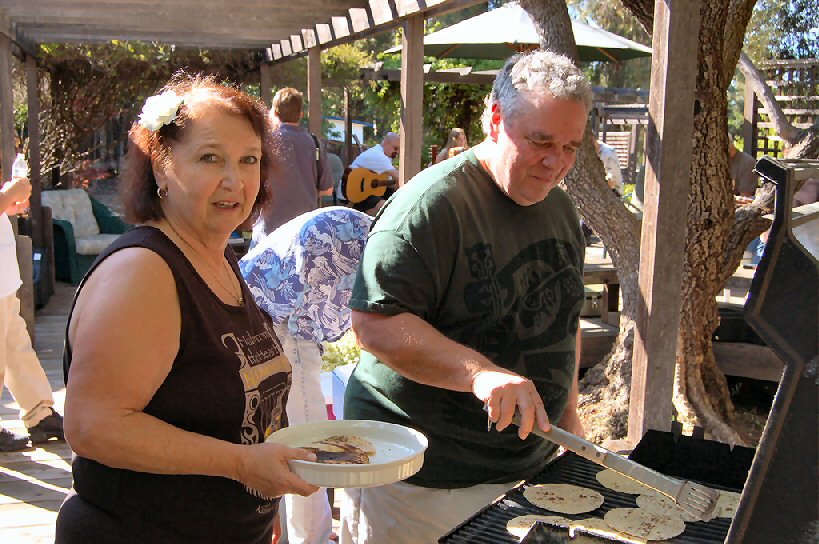 I'm warming up some of those torillas for another round of tacos.
I was torn about posting this shot of Teri Young and Cindy Porton - some folks hate to be photographed when they're eating. But I just love to see people enjoying my cooking.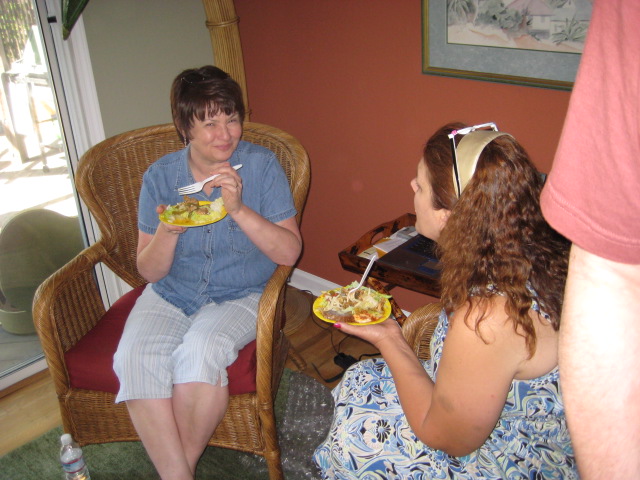 What can I say, my vanity about my kitchen skills won out.
And here's one reason guitar players are always poor - the luthiers are always conspiring to come up with irresistable new details and techniques.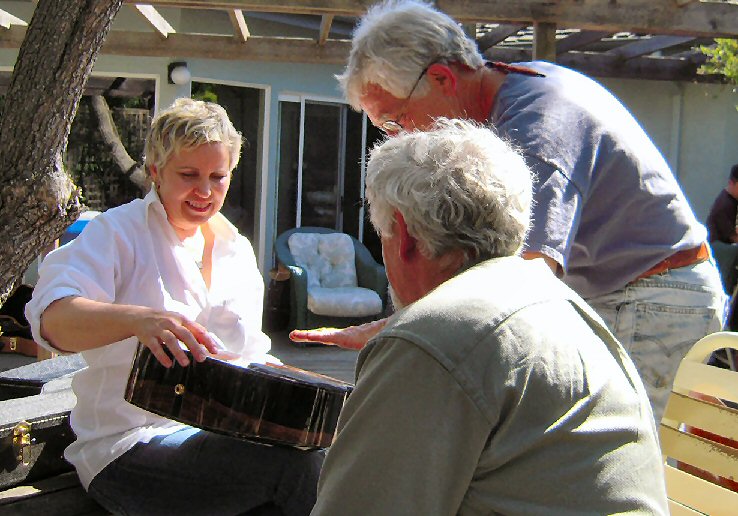 Kathy, Bruce, and Gil check out the subtleties of that sweet Wingert baritone. I can feel my wallet getting lighter already.