2008 Guitar Get Together
June 7, 2008
The living room is jam central, varying between an old timey/bluegrassy jam and a song circle. I'm always knocked out by the talent demonstrated in this jam and the others that form at various locations. If we're having a good party, there are a minimum of three sessions going on at the same time, and sometimes as many as five.
Here's the living room jam at one moment. Starting bottom and going clockwise, we have Jayne's back, then Steve Hawkins, Sharon, Jeff Holston, and Svea Norton. This is Jeff's first visit, he heard about the party on RMMGA. I feel good when we bring in new folks from that group, because RMMGA was my entry into the world of guitar get togethers.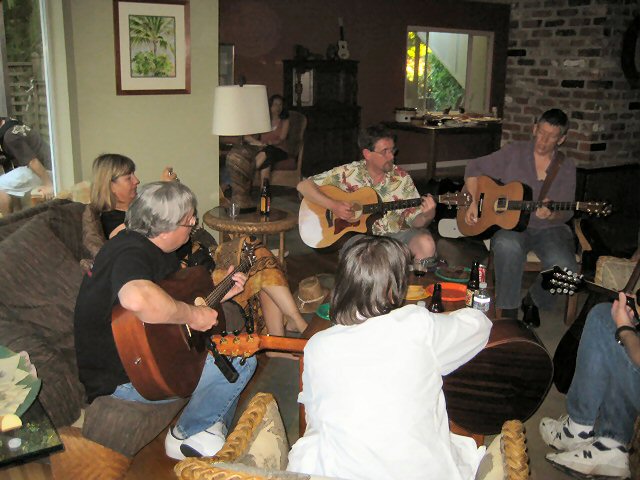 RMMGA is our abbreviation for the Usenet News group, rec.music.makers.guitar.acoustic - you see, back before there was a World Wide Web, sonny, there was something called Usenet. It was a wild and woolly place, not a cushy graphic environment like you young whippersnappers have today ...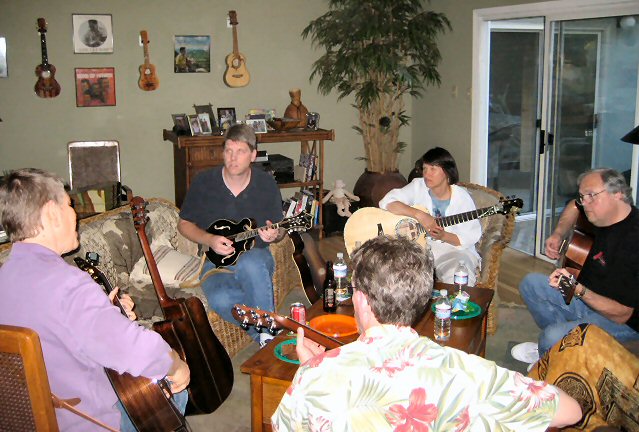 Looking the other way, we see Daniel Nestlerode, a sure fire jam starter, along with Jayne Schabel. Daniel is one of the folks who had guitar parties before I did, and wrote about them on RMMGA. Jayne has one of the most compelling Wingert guitars around, a 12 fretter that just sings.
Daniel's mandolin seems to have called in reinforcents. We've got a different living room jam going on, with John Begley and his Collings A, I believe.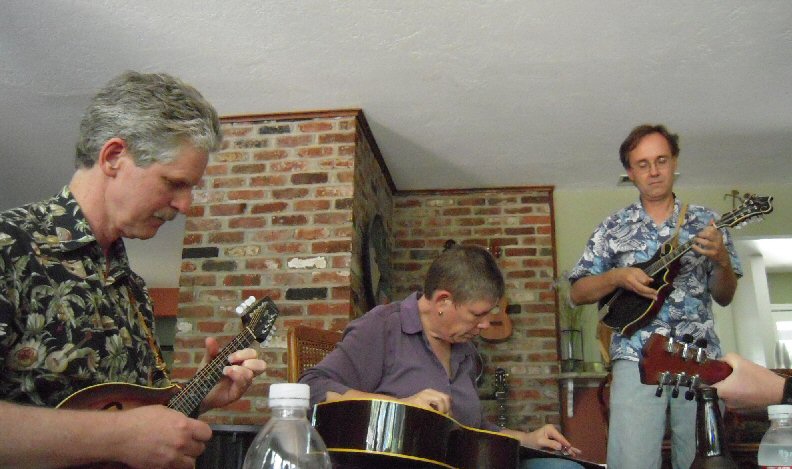 Svea has her Greven L00 set up for lap slide and the lady is making it shout. Matt Sarad is wailing on Daniel's F style mando, and I'll bet that's Daniel just out of view, quite possibly stroking Matt's Santa Cruz dread cutaway.
One more in the living room, and you can count on Svea to be a prime instigator when it comes to knocking out the tunes.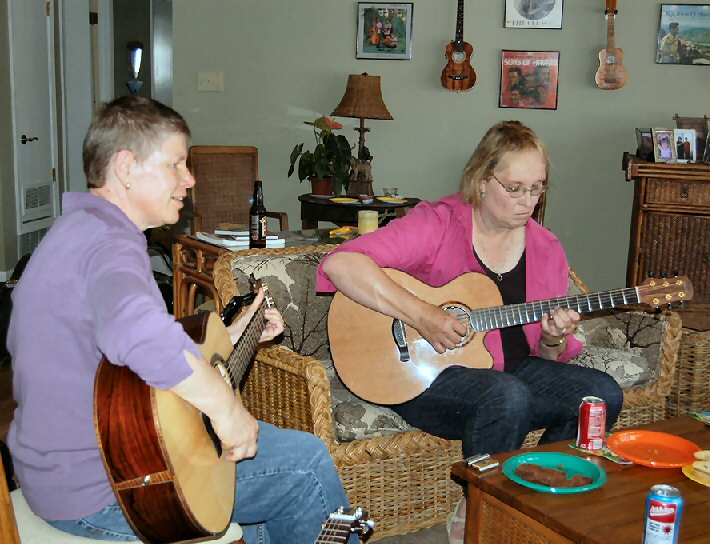 Jenn Martin is working out on her Baranik I believe. How can they ignore those beautiful cookies??
At the same time that some group or other is sounding off in the living room, we're sure to have some other group or person making music some where else. Here we can catch a glimpse of two jams out on the deck. In the foreground a some of my Hawaiian music buddies are going through He Mele Aloha to pick their next number. That's Phil Froilan, his brother Stephan, and Bill Dixon. Phil and Stephan provide music for Na Mamo No`eau, the halau where Lynn dances. Bill came down from Windsor, he learned of the gathering through Taropatch.net.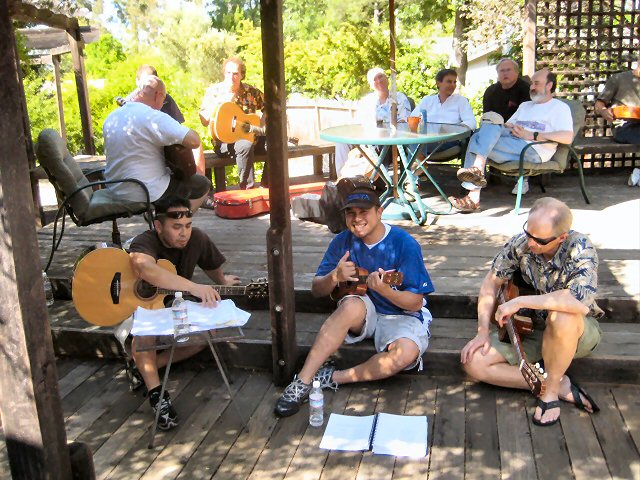 In the background on the left Alan Porton, Matt Mustapick, and Doug Young are doing an OM shootout. There were plenty of amazing ones around to try. We even have a bunch of folks taking a break from guitar fondling, with Tom Lamson, Bryan Kolner, Steve Hawkins, and David Siegler just resting up.
Now about the same time as those two jams are unfolding, we have another one at a different part of the deck. John How is just watching, but Bruce looks like he's playing fills.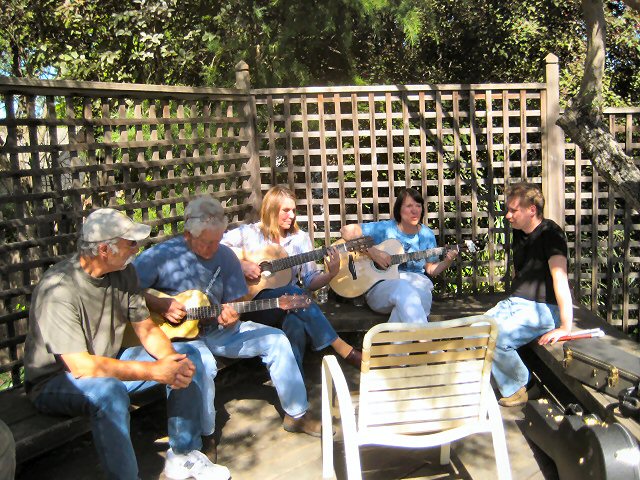 Gretchen has one of Gil's classicals, and Jayne is on her Wingert, while Victor just soaks it all up.
We usually have a swing jam somewhere in the house or yard. I love those chunk rhythms and circle of fifths progressions and they seem to be irresistable to some other pickers as well.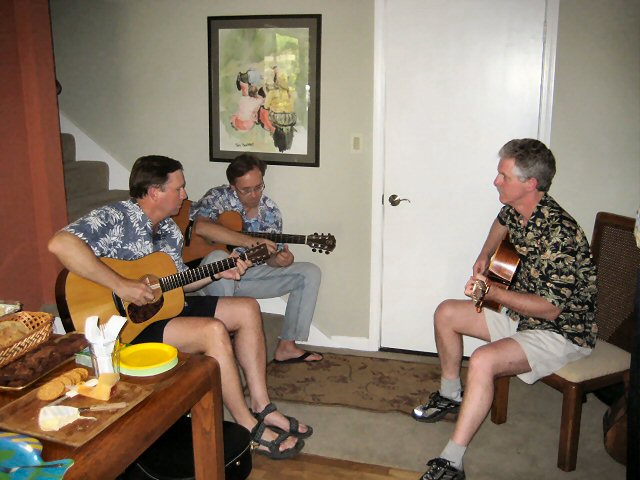 Steve Freeman plays in the Real Placebos with Brandt Williams (who seems to have escaped all cameras so far). Matt Sarad and John Begley are covering the chairs right now, but there was quite a rotation through this corner all afternoon. I don't think Steve ever left, though.
I should be all huffy at this disgraceful mistreatment of an `ukulele, but when Svea started bottlenecking Gretchen's gorgeous vintage Weymann and singing Martin Mull's Ukulele Blues I just had to roll with it.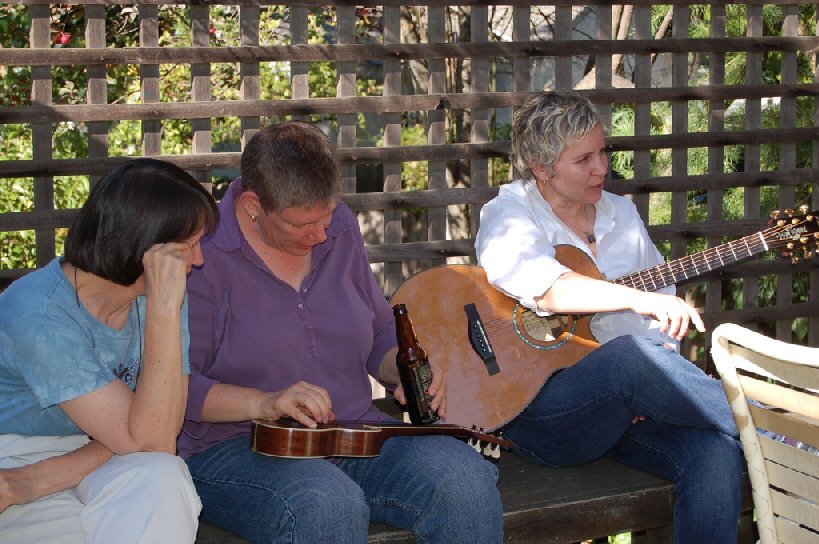 Jayne is trying to get some pointers on beer bottle lap slide technique, Wingert is clearly trying to stay above the whole spectacle.