2010 Guitar Get Together
May 8, 2010
Well here it is again, time for the biannual Guitar Get Together here in lovely Walnut Creek, CA. Much to my delight I got a call from Peter Fraser, the cofounder of Good Foot, our first rock'n'roll band. He was contemplating a trip from his home in Henderson, NY to sunny CA. I promptly began planning the guitar get together to coincide with his farming schedule, which brought this year's party to the beginning of May. Luckily the weather cooperated and we had a gorgeous day to enjoy our music and fellowship.
As usual, these pics almost ignore the guitars and focus on the people. I originally thought a guitar party would be a great way to try some different guitars, but instead discovered that it was a great way to meet lots of enjoyable people and hear them play delightful music. The guitars are the excuse, but enjoying friends has become the reason.
For another glimpse of the party, Maddog captured a tune on video and posted it on his YouTube channel.
Here's the very beginning of the party, which has added a few `ukulele each year and now has a nice helping of the little jumping fleas around.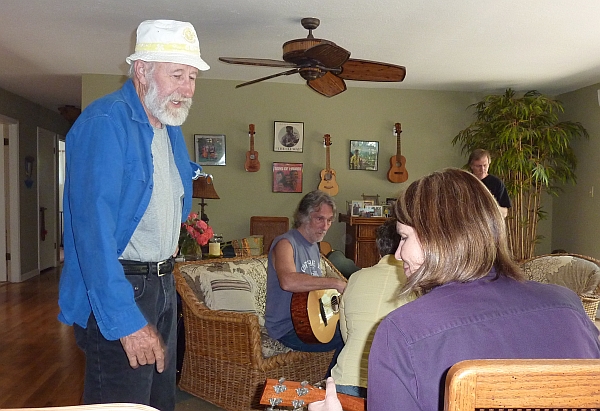 Here's the redoubtable Maddog sharing one of his collection of little four stringers with Gretchen. Peter holds Maddog's gorgeous little Santa Cruz Firefly custom, we can just see Kathy Wingert's back, and Stu Frazier is in the background.
Luthiers are a big part of our get togethers, we've been honored by various of these artisans since our first event back in 2001. Catherine accompanied Jason Kostal, who works with Ervin Somogyi.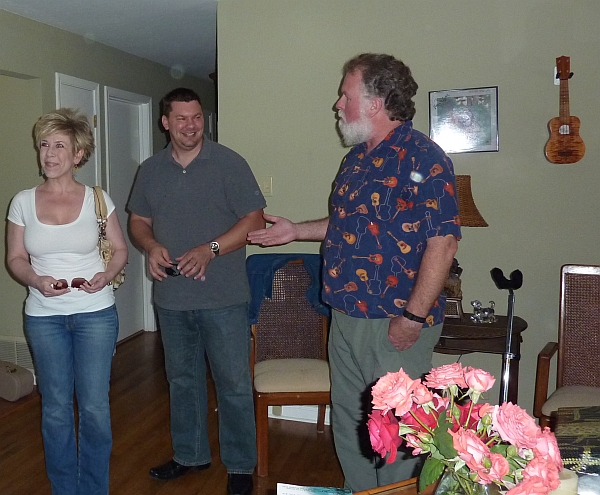 Mike Nepper, on the right, said he was mainly here for the food, but this is one of the few pictures of him that doesn't include a guitar in his hands.
My Kawili bandmate, Ikaika Lancaster, is enjoying the jaw dropping little soprano `ukulele that Kathy Wingert built. Tiny and delicate to feel, yet the big round notes just leap out of it.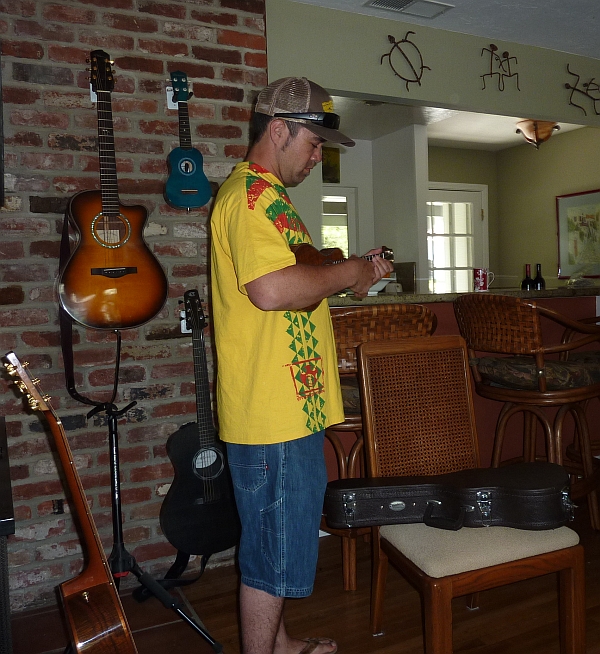 The guy is dedicated to his ukes, as you can see by the indifference he shows to my various guitars.
Did I mention that the luthiers really like to congregate and talk shop?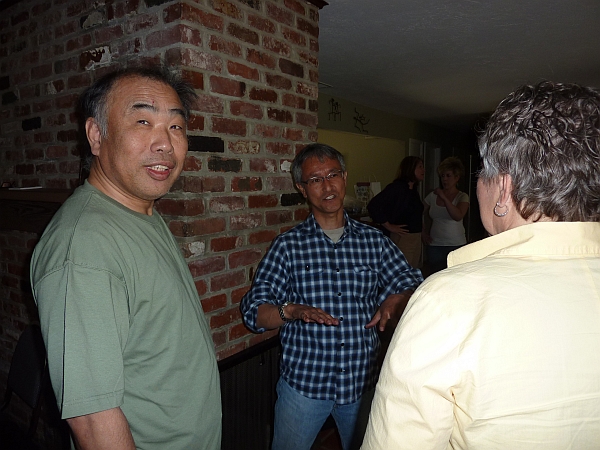 Tony Yamamoto has been a guest since our 2006 party and the number of his guitars attending has grown every time. His friend Kohei Fujii builds nylon strung guitars, a subject that Kathy Wingert is always pursuing.
Two ukers enjoying the sunshine. Maddog has his roaring custom tenor, Brazilian rosewood and Adirondack spruce.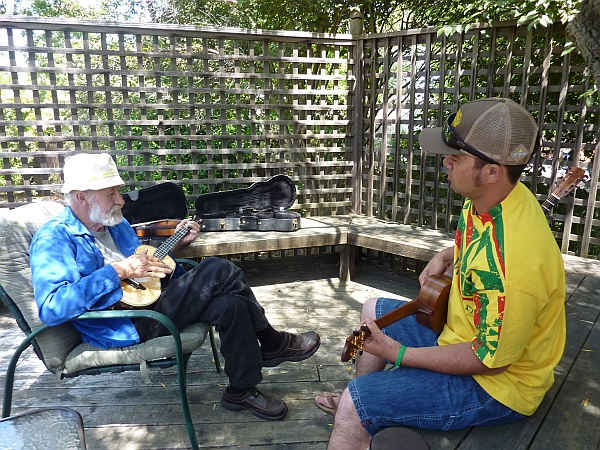 Ikaika grew up on the far side of the Island of Hawai`i, and probably started on the `ukulele about the same time he started eating solid food. He can fit the sweet uke sound into most any kind of music, and did it all day long.
Charles Webster on the left does spectacular guitar photography. Matt Sarad is a regular at our get togethers, making the long trek from Bakersfield to sample guitars and jam the day away.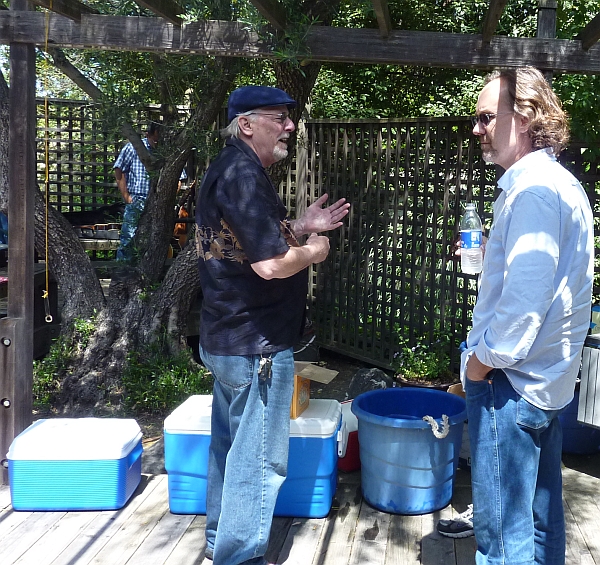 Please note the ingenious suspension system for the bottle opener. In previous years these things have disappeared repeatedly, stopping beer consumption and causing havoc. This year I finally came up with a solution, and the beer flowed without stopping.
The caption here has to be "Guitars, what guitars?" Two luthiers posing casually next to their masterpieces.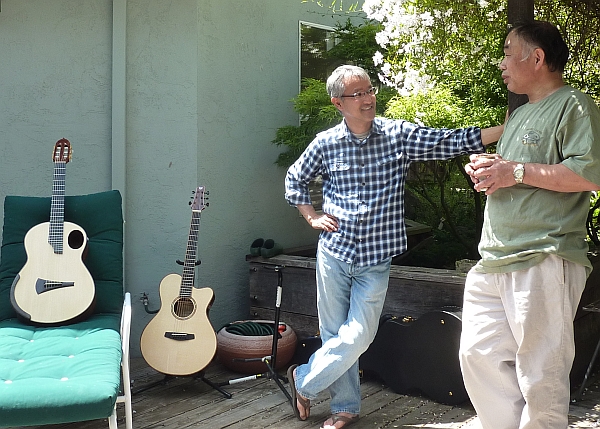 Kohei's offset soundhole classical is full of unusual touches, and of course a Yamamoto always has a distinctive look. This one is the Talus body style that Tony developed.
How's this for a May afternoon?? Darie rode in with Matt from Bakersfield, Peter took the long distance award by trekking out from New York.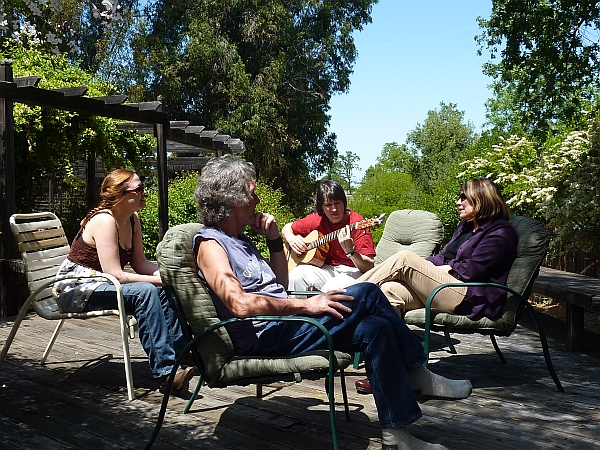 Jayne Schabel is mighty intent on that guitar, looks like Maddog's custom Firefly has won another heart.. Gretchen also hails from Bakersfield, she's probably sharing gourmet Bakersfield restaurant recommendations with Darie.