2010 Guitar Get Together
May 8, 2010
Ken Donnell of Miniflex Microphones is working on an `ukulele version of his system and asked us to help him evaluate it. Ikaika is finishing up the installation.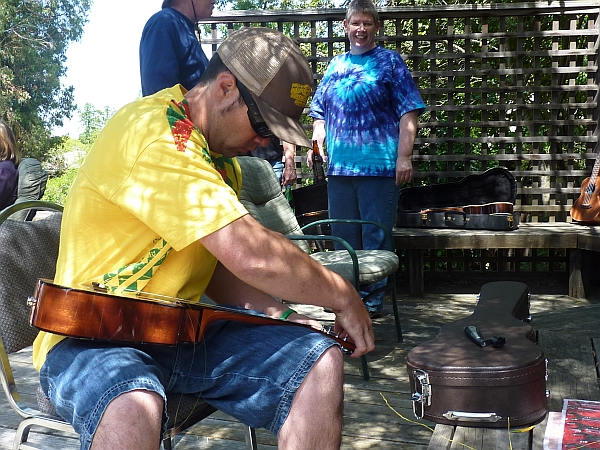 Svea Norton, Norcal guitar queen, started on uke in her formative years, and still has a soft spot for the little darlings.
Guitars and playing music on them sure brings out the happiness in people, doesn't it?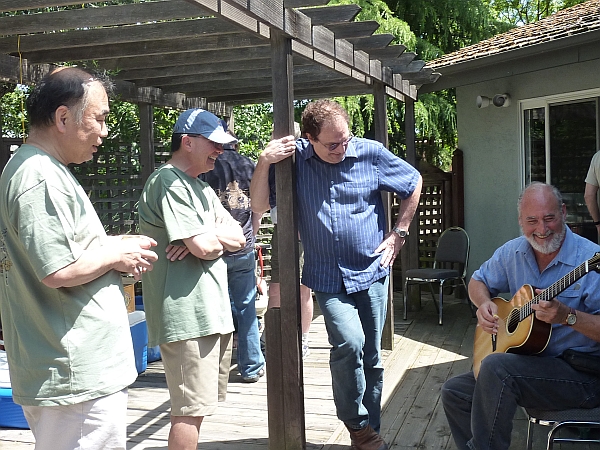 Tony Yamamoto works on guitars all day and still loves them. Ace Batacan is a local fiingerstyle whiz and long time Collings afficianado, he brought this beauty. Doug Young joins the crowd admiring the guitar and Dave Hilyard's playing.
Marshall Newman and Mark Macalik settled into the "palm tree" corner to sample OMs. (Note ukes in background, heh heh)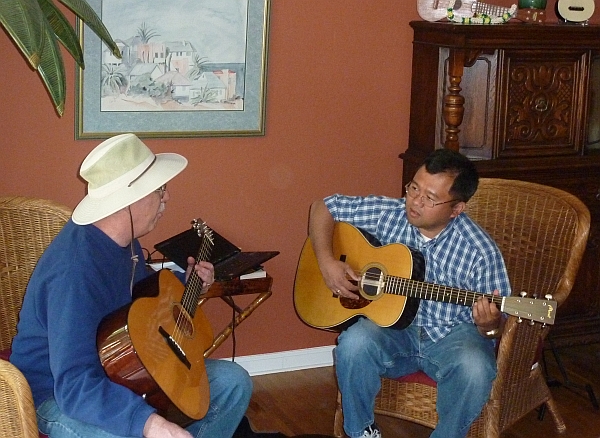 Marshall has my Walker in his lap, and I'll bet that's Marshall's mellifluous Merrill that Mark is maneuvering. Mmmmmm.
The party spread out throughout the house and yard, I was happy to have people visit Digital Duck studio now that I've finally gotten it in shape.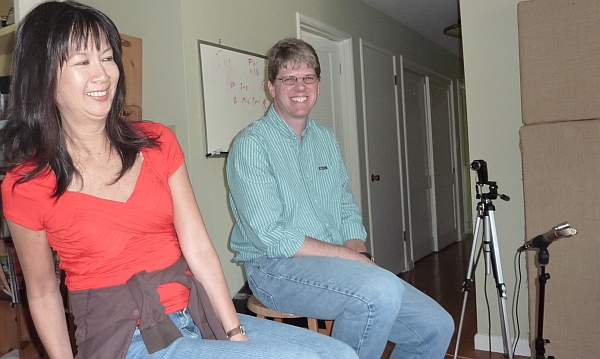 Brenda Lippincott plays a fingerstyle blend of Hawaiian slack key and contemporary concepts and tunings. Daniel Nestlerode plays Americana at its best, and usually has a mandolin in his hand at the parties these days. Daniel hosted the party that I read about on RMMGA waaaay back when, inspiring our own efforts.
Two of my favorite people on the planet, cliche as that may be, and it's just coincidence that they build incredible instruments and play them wonderfully as well.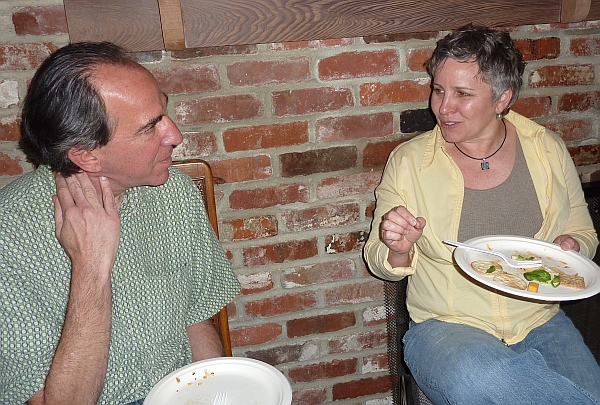 Alan Perlman has become one of the top builders and restorers in the very busy SF Bay Area luthier community. He healed my little Kamaka that fell of the shelf in the "little big one" of 1989. Kathy Wingert and Alan teamed up with Lynnie to drop a huge surprise birthday party on my 60th. I'll get even with them some day.
Doug Young and I have shared a lot of adventures trying to figure out acoustic guitar recording and now video. He routinely turns up with lovely and charming guitars, and this little Martin OMC-LJ Pro is another winner. It's rare to see maple on a Martin, and this one includes a maple neck.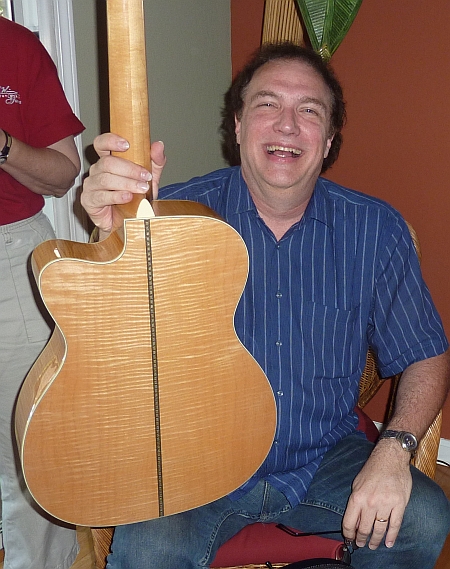 Doug also hosts a monthly guitar showcase with two guests, currently at the Mission City Coffee Roasting Comparny in Santa Clara, CA. This will be the fifth year for his event, which draws artists from all over the state and presents them in front of a genial audience of acoustic music fans.
I was proud of my brownies and biscotti, and even my bell pepper and chili stew, but I was most proud of the excellent job I did choosing the weather.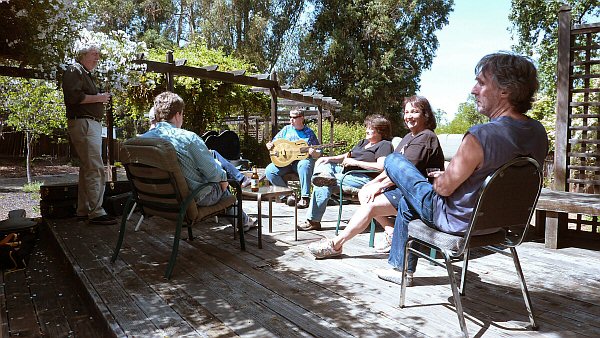 Tom Walzem, Daniel Nestlerode's back, probably Brandt Williams hidden, because Svea has Brandt's super rare 1929 National Triolian - 3 piece steel body, flat cut F holes, original bakelite neck and all original parts. He tells me the bakelite (vintage plastic) neck concept was a failure, with half the instruments produced being returned for neck replacement, and no one knows how many of the bakelites survived. Here's the whole story in Brandt's own words. Sheri, Lynn, and Peter are enjoying the sunshine and pretending to be interested in the esoterica of National resonator guitars.
The kitchen is the heart of the house, these folks are clogging the arteries (har har har - sound of knee being slapped).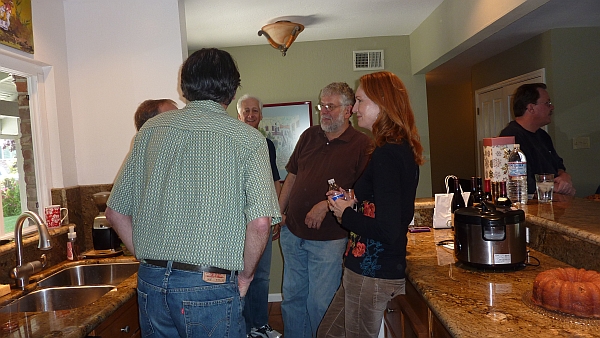 John's hairline, Alan Perlman's back, Skip Johnson just coming in the door, John Mello, Charlotte Gibb, and family friend Jim Banghart. Skip has a band that specializes in corporate events, but on the acoustic front he specializes in Tommy Emmanuel. John Mello has been building and repairing in Kensington for many years and always adds a lot to any gathering. Charlotte is active in the Contra Costa acoustic music scene.